'Pay-to-stay': Jails regularly charge inmates for food, basic services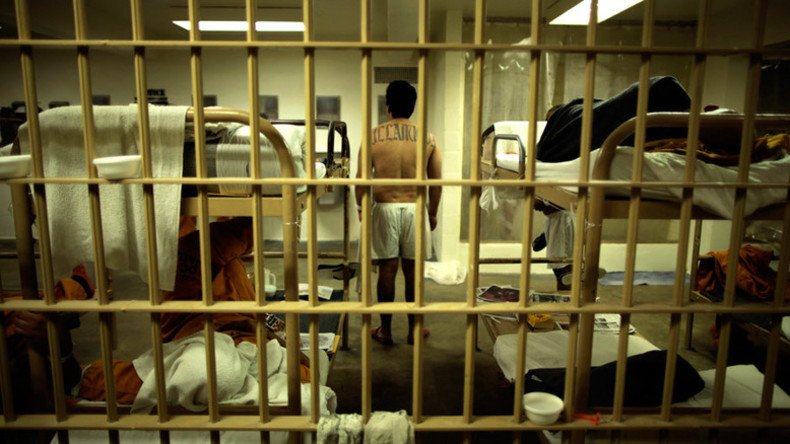 A new report on Illinois policy of suing former inmates to recoup incarceration costs highlights a common practice across the US, as at least 43 states allow 'room and board' or medical fees to be collected from inmates in state or county prisons.
A 1982 state law allows Illinois corrections officials to sue inmates for their periods of incarceration, but the practice was rarely used until recently. Since 2010, Illinois has sued 31 former inmates or parolees, with 11 suits occurring in the first 10 months of 2015, according to the Chicago Tribune. Nearly half (14 cases) were dismissed, though the state has still recovered more than $500,000 since 2010.
Many of Illinois lawsuits have targeted those non-violent offenders whom corrections officials have often discovered have at least modest amounts of money, whether as inheritance, trust fund or a separate settlement with the state.
Joecephus Mitts is one such inmate. He settled a federal civil rights lawsuit against Illinois in 2014, for the state's failure to properly treat his cancer while he was incarcerated. The Corrections Department later sued Mitts for almost $175,000 in costs of imprisonment, even though the state agency had agreed in legal documents to not attempt to recoup the settlement money. The suit was dismissed, with prison officials claiming they overlooked the provision of Mitts' settlement that disallowed the recovery of the money.
Critics of 'pay-to-stay' laws like Illinois' say the targeting of what little amount of money inmates have is at the very least unreasonable, given the sentences they have served. Some 80 percent of the inmates are indigent, according to the Brennan Center for Justice.
"If you don't have a way to support yourself, you go to the underground economy. That's criminal, and you go back to prison," Alan Mills, executive director of the Uptown People's Law Center, a legal assistance outlet for inmates, told the Tribune. "That's horrible public policy."
In a May 2015 report titled Charging Inmates Perpetuates Mass Incarceration, the Brennan Center found that at least 43 states have 'pay-to-stay' laws that seek to shift some financial burden from taxpayers to inmates in this age of mass incarceration. Since 1990, the US prison population has increased by 90 percent.
"The problem with all of this is that we're supporting the justice system by charging the poorest members of our society. That's just not a cost-efficient way — and a lot of people would argue it's not a moral way — to operate a system," Lauren-Brooke Eisen, senior counsel with the Brennan Center's Justice Program and author of the May report, told the Tribune.
"Every aspect of the criminal justice process has become ripe for charging a fee," Eisen wrote in her report.
"In fact, an estimated 10 million people owe more than $50 billion in debt resulting from their involvement in the criminal justice system," she added. "In the last few decades, additional fees have proliferated, such as charges for police transport, case filing, felony surcharges, electronic monitoring, drug testing, and sex offender registration."
Eisen noted that there has been no comprehensive study in the last ten years regarding prison and jail fees being passed on to the incarcerated. In 2005, the National Institute of Justice surveyed 224 jails and found that 90 percent of respondents levied some kind of fee to inmates.
Nationwide, many corrections facilities charge inmates for medical treatment, such as Fluvanna Correctional Center for Women in Virginia. As a result of a 2012 law, inmates with the Texas Department of Criminal Justice are charged an annual $100 fee for medical care.
Stipulations for 'pay-to-stay' programs vary. At the Utah County Sheriff's Office Corrections Bureau, inmates convicted of a misdemeanor are charged fees, while those convicted of a felony are not. "Inmates brought in on warrants may be charged," the bureau added.
There are three models of 'pay-to-stay' programs in US jails and prisons, according to a 2014 report by Eisen. One regards "per-diems," or fees incurred each day. Approximately "a third of the nation's 3,000-some county jails levy room-and-board fees"as of 2004, Eisen wrote. In Riverside County, California, prisoners are charged $142.42 per day, and in Ohio, where about two-thirds of prisons have daily fees, Franklin County charges $40 per day for jail stays.
The second type of 'pay-to-stay' models is one that charges inmates for individual items, like food, medicine, clothing and toilet paper. In Maricopa County, Arizona, home of infamously harsh sheriff Joe Arpaio, inmates are charged for meals, as are inmates in Elko County, Nevada.
"We're not the Hilton," Elko County Sheriff Jim Pitts told the Elko Daily Free Press. "These guys shouldn't have a free ride."
The third type of program, as outlined by Eisen, is one that offers premium accommodations to inmates who can afford an "upgrade," or a higher-price incarceration facility with privileges.
In her report, Eisen noted that inmates who have challenged the various 'pay-to-stay' fees have routinely lost in state and federal courts, which have found the charges do not rise to a violation of inmates' constitutional rights to due process and equal protection under the law. Yet she has written that the Eighth Amendment's excessive fines clause is an underused tool in this fight to challenge fee regimes at jails and prisons.
"In recent case law reviewing forfeiture cases, courts have held that a punitive forfeiture violates the excessive fines clause 'if it is grossly disproportional to the gravity of the offense that it is designed to punish,'" Eisen wrote.
"As Eighth Amendment jurisprudence examining fees under the excessive fines clause has similarly developed to emphasize the principle of proportionality, this provides an innovative doctrinal opening for litigation on inmates' fees when they significantly exceed the legally permissible statutory fine for an inmates' crime," she continued.
Illinois Attorney General Lisa Madigan told the Tribune that the state's lawsuit program aimed at former inmates and parolees presents "moral" questions that state lawmakers should address.
"The Legislature should revisit whether this law is appropriate," Madigan said in a statement. "These recoveries may raise roadblocks to former inmates trying to lead successful lives out of prison. As a result, the judgments that must be made in attempting to recover incarceration costs raise moral questions that legislators need to address."
Last month, the Federal Communications Commission set a cap on prison phone rates of 25 cents per minute within a prison phone industry that had hit $1.2 billion.

You can share this story on social media: