'Worse than any payday loan scheme': FCC caps prison phone rates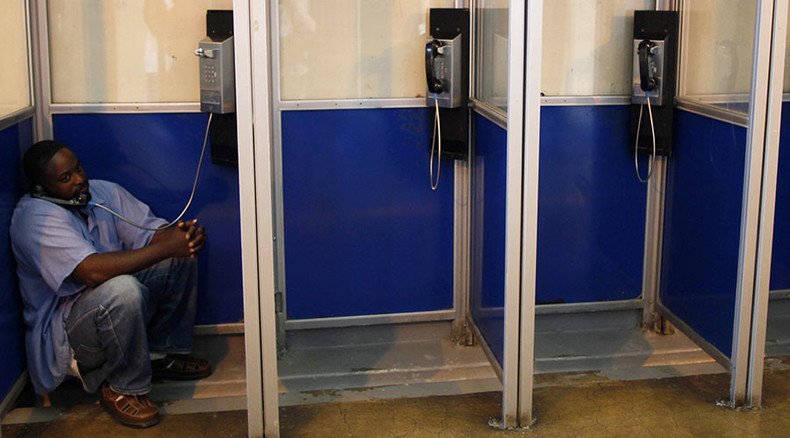 Heeding the cries of over 2 million families and inmates who have been fighting for caps on prison phones rates and ancillary fees for over two decades, the FCC voted to limit rates to .25 cents a minute, dealing a blow to the sector's dominant companies.
Prison phone calls are a $1.2 billion industry dominated by a few companies, but on Thursday the Federal Communications Commission voted 3-2 in favor of capping rates on all local, in-state long distance, interstate, and international calls. The decision limits the price of the majority of prison calls to no more than $3.75 for 15 minutes. In some states, cap fees and other costs can currently boost prices to $17 for 15 minutes. The changes will take effect in prisons early next year and in jails by midyear.
FCC Commissioner Mignon Clyburn, a Democrat, told the Associated Press before the vote that the cost of calls has placed "incredible burdens" on the families of the more than 2 million people incarcerated in the US.
Dissenting votes came from Commissioners Ajit Pai and Michael O'Rielly, both Republicans, who said they didn't believe they had the authority to take such action.
National Sheriffs' Association Executive Director Jonathan Thompson said the group was "very disappointed." He told the AP that sheriffs, who receive profit-sharing commissions from phone companies, use the money to provide services for inmates. He claimed these new rates "will mean that inmates will go without the ability to call and talk to their family members…we know that many small facilities cannot afford to do this without cost recovery."
The vote bans excessive ancillary fees and discourages companies from paying site commissions – a percentage of jail phone revenues given to local sheriffs.
Until the 1990s, inmates could place and receive calls to lawyers and family members at rates similar to those outside prison walls. The 1988 Telecommunications Act changed all that by deregulating telephone corporations in an effort to encourage competition. Suddenly, rates were not controlled by federal or state regulatory agencies. What ensued was decades of "exorbitant fees, high phone rates and monopolistic relationships between public jails and private companies that openly [offered] kickbacks to local sheriffs," according to the International Business Times.
Over the decades, defense attorneys have joined families and inmates in fighting for lower rates, but phone companies have defended the costs, saying that prison calls required costly security features and that some of the generated fees go towards activities for inmates.
Two inmate phone service companies– Securus and Global Tel*Link – dominate the market, controlling 80 percent of the prison phone business. They generate some $1.2 billion in revenue per year.
In May 2015, Foster Campbell, the Louisiana Public Service commissioner, described the prison phone business in his state as "worse than any payday loan scheme."
You can share this story on social media: