NASA orders first manned SpaceX flight to ISS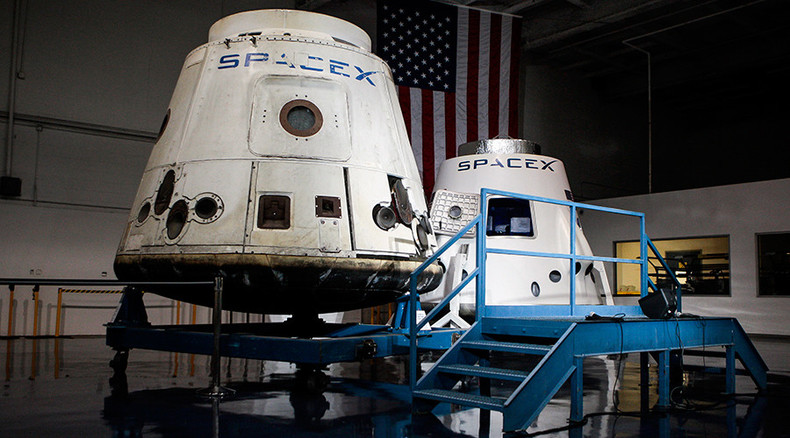 NASA has placed an order with private spaceflight company SpaceX for a manned mission to the International Space Station in 2017. The Dragon spacecraft can carry up to seven people in lower Earth orbit.
"The authority to proceed with Dragon's first operational crew mission is a significant milestone in the Commercial Crew Program and a great source of pride for the entire SpaceX team," Gwynne Shotwell, president and chief operating officer of SpaceX, said in a statement.
The order is one of two guaranteed missions that SpaceX was awarded in a 2014 contract with NASA. The flights are part of NASA's Commercial Crew Program, which aims to co-operate with private American aerospace companies to "develop and operate a new generation of spacecraft and launch systems capable of carrying crews to low-Earth orbit and the International Space Station."
READ MORE: Commercial space industry avoids regulation until 2023 once Obama signs new bill
According to NASA, commercial crew launches will "reduce the cost, per seat, of transporting NASA astronauts to the space station, compared to what the agency must pay the Russian Federal Space Agency for the same service."
Boeing, which is also part of the Commercial Crew Program, received its first official order in May. The company will deliver its CST-100 Starliner to the ISS at a future date yet to be determined. Like SpaceX, Boeing has been guaranteed at least two missions to the space station, but each company could receive a "maximum potential of six missions."
"It's really exciting to see SpaceX and Boeing with hardware in flow for their first crew rotation missions," Commercial Crew Program Manager Kathy Lueders said in a statement. "It is important to have at least two healthy and robust capabilities from US companies to deliver crew and critical scientific experiments from American soil to the space station throughout its lifespan."
READ MORE: SpaceX faces class action lawsuit claiming violations of labor laws
Although Boeing received its order a full six months before SpaceX, it remains unclear which company will be the first to complete its mission. NASA said a decision will be made at a "later time."
NASA says the Commercial Crew Program is working with both SpaceX and Boeing to ensure commercial transportation system designs and post-certification missions meet the agency's safety requirements. It also stated that it will be taking part in a series of mission-related reviews and approvals, as well as be involved in "all operation phases of mission to ensure crew safety."
Based in Hawthorne, California, SpaceX is an aerospace manufacturer and space transport services company founded in 2002 by former PayPal entrepreneur and Tesla Motors CEO Elon Musk. It was initially created with the goal of reducing space transportation costs and enabling the colonization of Mars.