Candlelight vigil for 'shining star': Hundreds mourn American student killed in Paris attacks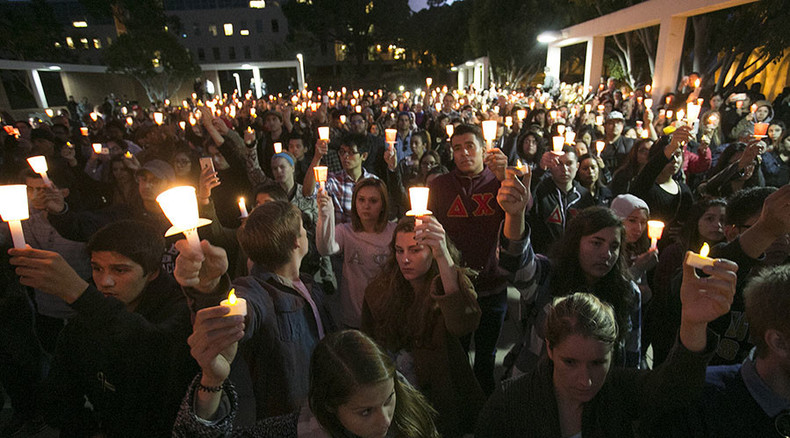 The only US victim of the Paris attacks was mourned by her friends, classmates, and teachers at a vigil in California. Hundreds paid tribute to the 23-year-old student, remembered as "a wonderful young lady" with "a big smile."
"While there are other events like this happening around the country, with focus on global events and their implications, I want to be very clear: This memorial is about Nohemi," said Principal Lori Eshilian of Whittier High School, according to the Whittier Daily News.
A senior from El Monte majoring in industrial design at Cal State Long Beach (CSULB), Nohemi Gonzalez graduated from Whittier High School in 2010. She was one of 17 exchange students from her university who went to Paris as a part of a semester abroad program at the Strate School of Design.
On the night the French capital was struck by a series of terrorist attacks, Gonzalez was having dinner with friends at a popular bistro, La Belle Equipe. She was one of 129 people killed on November 13 and the only American citizen who is known to have been killed in the attack.
On Tuesday, Gonzalez was mourned by hundreds of people who came to a candle vigil at her former high school.
"She was just a real sweetheart," Matt Tremper, dean of students, told RT. "She had a big smile on her face, very soft spoken, sweet kid, very athletic."
Gonzalez was remembered as "a wonderful young lady" by her aunt, Rose Ibarra, and as a supportive, hard-working and encouraging person by her former classmates and teachers.
"She always encouraged her teammates," her coach Dan Whittington said, according to the Whittier Daily News newspaper."Many of her teammates sent texts or called me this weekend to just talk and share memories about her. One of the things that was said was that she would always push them to try harder in workouts and races."
Nohemi's family and teacher said that "the world has lost not only an incredible young woman, it's lost a shining star."