'Alabama citizens in harm's way': Governor says state won't accept Syrian refugees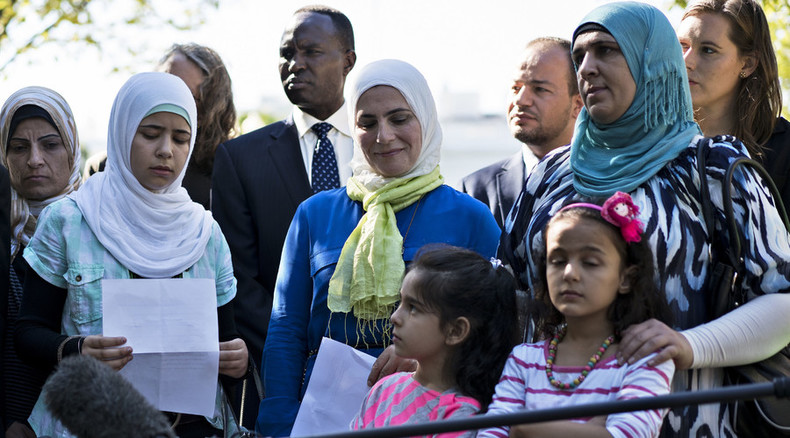 The state of Alabama will not be accepting any Syrian refugees, its governor declared in the wake of the Paris terrorist attacks. The US already agreed to accept 185,000 refugees in the period until 2018.
Robert Bentley's office issued a statement following his Sunday announcement. Among other things, the rationale for the move has been outlined: "After full consideration of this weekend's attacks of terror on innocent citizens in Paris, I will oppose any attempt to relocate Syrian refugees to Alabama through the US Refugee Admissions Program. As your Governor, I will not stand complicit to a policy that places the citizens of Alabama in harm's way," Bentley says.
His press office adds that the Alabama Law Enforcement Agency is cooperating with the FBI and the Department of Homeland Security (DHS), as well as intelligence partners to reduce the risk of any terrorist threats locally.
The effort has already led to increased security in the state, with law enforcement presence increased around public spaces and other places of gathering.
"To date, there has been no credible intelligence of any terrorist threats in Alabama," the press release also says.
Alabama has a refugee processing center in the city of Mobile, which so far does not house any Syrians. Nationals of that country appear to be the sticking point here.
The United States announced in late September that it will be accepting 15,000 more refugees from around the world over the next two years than it accepts currently. This brings the total to 85,000 in 2016 and 100,000 refugees, to be taken in in the course of 2017. The announcement was made by Secretary of State John Kerry at a conference with German Foreign Minister Frank-Walter Steinmeier in Berlin, where the two discussed the refugee crisis.
READ MORE: US mulls taking more Syrian refugees, as complaints over lax response to crisis mount

A large proportion of the additional refugees accepted are slated to be from Syria under the proposal.
"In consultation with Congress, we will continue to explore ways to increase those figures while maintaining robust security," Kerry said at a news conference after the meeting, according the AP.
Republicans have been lashing out at the government for allegedly making it easy for "terrorists" to infiltrate the USA. Congressman Bob Goodlatte and Senator Chuck Grassley, who head the judiciary committee in the US Senate House of Representatives, said in a statement that Kerry's proposal contained no "concrete and foolproof plan to ensure that terrorists won't be able to enter the country."
However, according to President Obama's Deputy National Security Advisor Ben Rhodes, who spoke on NBC's Meet the Press this Sunday, there are thorough screening procedures in place to keep potential threats to a minimum.
"Let's remember, we're also dealing with people who've suffered the horrors of war, women and children, orphans. We can't just shut our doors to those people. We need to sort out how to focus on the terrorists that we need to keep out of the country. But I think we do need to do our part to take those refugees who are in need."
However the rhetoric so far stands in stark contrast to reality, especially if the American intake is compared to Germany's. Since the start of the war in Syria, only about 1,500 refugees from Syria have been accepted in the US – Germany is expecting to take in hundreds of thousands. The forecast of 300,000 has been more than doubled to 800,000 for 2015 since this summer.
Previous American estimates for the next year only mentioned accepting 10,000 from Syria. This has aroused international criticism in September, including from the UNHCR – which projected a need for at least 17,000; and the International Rescue Committee (IRC), which called the American response "fumbling, feeble."
You can share this story on social media: