Mizzou names interim president in wake of vandalism on campus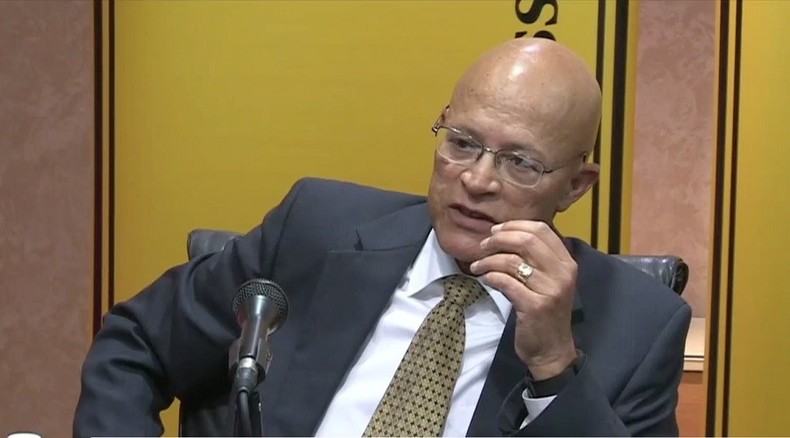 The University of Missouri system has named an interim president in the wake of protests that forced the resignations of the president and chancellor. The move comes after vandals attacked a cultural center and students have butted heads with the media.
The Board of Curators named Mike Middleton to be the interim president of the state's public university system, three days after President Tim Wolfe and Chancellor R. Bowen Loftin announced their resignations. Middleton, a former civil rights attorney who was the first person of color to graduate from Missouri's law school, previously served as the deputy chancellor of the system's flagship campus in Columbia, nicknamed "Mizzou."
"The time has come for us to acknowledge and address our daunting challenges, and return to our relentless adherence to the University of Missouri's mission to discover, disseminate, preserve and apply knowledge," Middleton said in a statement.
"I am looking forward to working closely with the leadership on our four campuses, and Missouri's state leaders, to move this great university forward," he added.
Middleton's appointment came hours after a vandal spray-painted over the word "black" on the sign for the Gaines-Oldham Black Culture Center. The cultural center seeks to make the campus "a more inclusive and welcoming environment for diverse populations."
Freshman Isaac Jahns told the Maneater, Mizzou's student paper, that he heard a conversation that may have been related while walking home from a late-night dining hall with friends.
"As we turned the corner, we heard someone yell, 'Black motherf----s, you're not welcome here,'" Jahns said. "I looked back, and there was a girl [by the culture center] with a red jacket on and she booked it. She was sprinting. So we booked it too, went back [to our dorm] and I tried calling MUPD twice… We were like, 'It's gotta be the same guy. It has to be.'"
The freshman added that he did not see the male suspect and that he thought the female, whom he believed the insults were directed to, was black.
The vandalism is the latest in a string of racially charged incidents on campus that have many African-American students on edge and afraid. It occurred hours after campus police finally released their report on an October 24 event, in which a swastika drawn in human feces was found on campus. Questions had been raised as to the veracity of the story due to a lack of photographic evidence, but the incident was confirmed through a Freedom of Information Act request by the Daily Caller.
The responding officer wrote that he was directed to a bathroom where he "noticed there was a swastika drawn on the wall by someone using feces," he wrote. "There was also feces on the floor located by the entryway to the restroom."
Campus life more or less returned to normal on Thursday, RT's Anya Parampil reported from Mizzou. The encampments from earlier this week have been taken down and most classes have resumed. Students have welcomed Middleton's appointment, she said.
Middleton's balanced approach and thoughtful tone during the press conference announcing his appointment was a marked difference from that of Wolfe, his predecessor. Students had accused the previous system president of not only failing to address multiple reported incidents of racial harassment, but also of being dismissive of their concerns. Protests began last week with a hunger strike by graduate student Jonathan Blake, and reached a groundswell of support and national attention Saturday night after 30 members of the Mizzou football team threatened to boycott upcoming games if Wolfe did not resign.
In his introduction, the interim president addressed the idea of safe spaces on campus, a hot-button issue during the protests.
"I think safe spaces are critical. I think students need spaces where they can feel comfortable, where they can interact without fear," he said. "But I think if you're asking in the context of the First Amendment and free speech issues, that's a very delicate balance. Both are essential to our way of life in this country."
Safe spaces ‒ meaning places where people can fully express themselves, without fear of being made to feel uncomfortable, unwelcome, or unsafe ‒ became the focus of the mainstream media, after a video showing an assistant professor of mass media calling for "muscle" to help her stop a student cameraman from reporting on the anti-racism protest went viral. That videographer, Mark Schierbecker, filed a complaint against Professor Melissa Click for simple assault on Wednesday night, after meeting with her on Tuesday.
Click apologized to him, but Schierbecker found her remorse "lacking," he told USA Today, adding that he was "just left with the feeling that she doesn't care."
Outside support for the student protests has begun to wane over the issue, as journalists have condemned the need for safe spaces where the media is not allowed.
"The national media's coverage of [the protests] pivoted so quickly from 'here's what the protesters are upset about, here's why these events are happening' to 'here's why journalists are upset with the protesters'... And it's so easy for journalists to start writing about themselves, when they're not the story," Nate Gatter, a student reporter for the Maneater, told RT.
"At the end of the day ‒ 10, 20 years from now ‒ at the University of Missouri, we're not going to remember how journalists feel like they were wronged. We're going to remember what these protesters were doing and why they were doing it."
Bitter battles over the need for safe spaces have erupted online, and were only inflamed after Brenda Smith-Lezama, vice president of the Mizzou student body, implied to MSNBC that students' right to protest trumped the journalists' rights to cover events.
"I personally am tired of hearing that First Amendment rights protect students when they are creating a hostile and unsafe learning environment for myself and for other students here," Smith-Lezama said. "I think that it's important for us to create that distinction and create a space where we can all learn from one another and start to create a place of healing rather than a place where we are experiencing a lot of hate like we have in the past."
There has also been backlash against the protest movement by fellow students. An Op-Ed on the website Total Sorority Move lambasted Butler for silencing anyone who did not agree with the #ConcernedStudent1950 movement at the heart of the demonstrations.
"For the past week, Jonathan Butler has politicized our campus, counteractively racially divided our student body, and threatened the way our leaders will make future decisions," a Mizzou student with the handle LuckyJo wrote. "He protests because he feels that nobody is listening to him. He feels he has been silenced. So why does he consistently silence others? Isn't that contradictory to his argument?"