MSM prof calls for 'muscle' to stop reporter covering Mizzou anti-racism protest (VIDEO)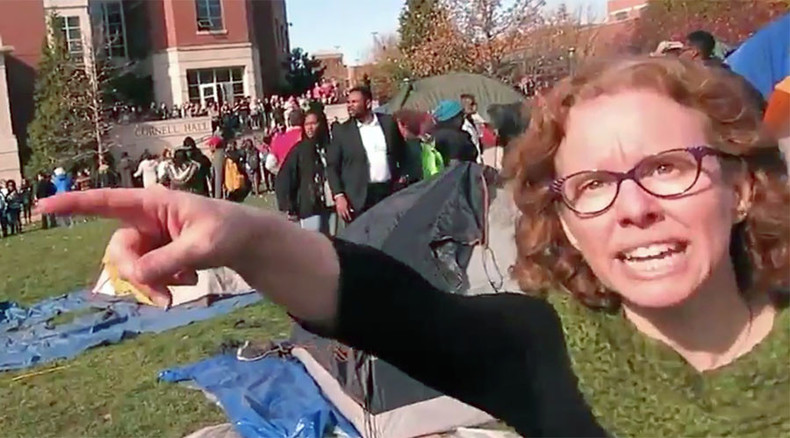 A professor of mass media at Missouri University called for 'muscle' to help her stop a cameraman from reporting a students' anti-racism protest on the campus, as seen in the video.
Student photographer Mark Schierbecker was trying to record the anti-racist protest at the university campus.
He asked for an interview from a near-by woman, who was later identified as Melissa Click, an assistant professor of mass media. When Click understood Schierbecker was a journalist, she grabbed his camera and demanded that he leave.
"Hey who wants to help me get this reporter out of here? I need some muscle over here," shouted Click, whose research interests center on popular texts and audiences "disdained in mainstream culture."
According to Click's profile, her current research includes "50 Shades of Grey readers" and "the impact of social media in fans' relationship with Lady Gaga."
What is weird about the situation is that the protest was organized by Click, who had earlier called for media coverage, according to her Facebook.
"Hey folks, students fighting racism on the MU campus want to get their message into the national media. Who among my friends knows someone who would want a scoop on this incredible topic?" wrote Click, who was recognized as an "Outstanding Mentor" in 2011.
Click wasn't the only one who obstructed the media during the protests. Many students and teachers also tried to restrict journalists' access.
In the video a student photographer identified as Tim Tai is seen attempting to take photos of a tent city the activists have erected on the campus. The video shows students and university staff pushing him away.
"I am documenting this for a national news organization [ESPN TV]," Mr. Tai told the protesters. "The First Amendment protects your right to be here and mine."
However, the mob ignores Tai and is heard chanting: "Hey hey, ho ho, reporters have got to go."
Following the incident social media burst with outrage, criticizing university staff and Click in particular. Soon after the incident the assistant professor made her Twitter account private.
READ MORE: University of Missouri president, chancellor step down amidst protests over racial tensions
Protests against multiple reported incidents of racial harassment at Missouri University have been going on for a few months on campus. Students say Tim Wolfe, the president of the university system, has mishandled the situation. Both the president and the chancellor have announced they will resign.