Brutal dog biter must now bite bullet – 1yr behind bars, anger management, alcohol treatment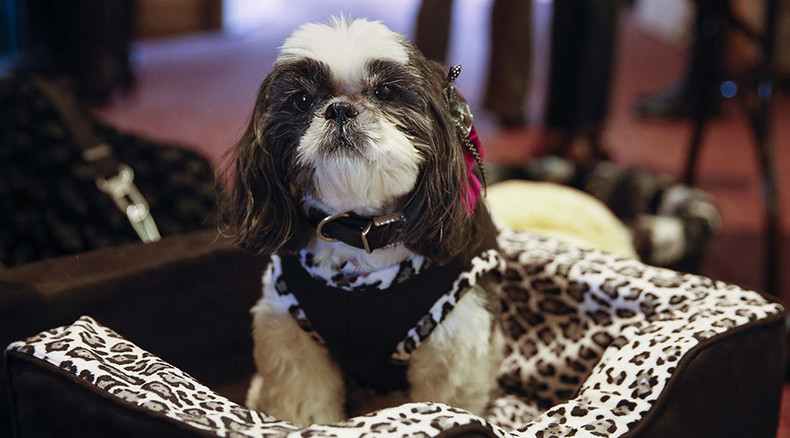 A sharp-toothed man from Florida may face at least one year in prison after a jury found him guilty of cruelty to animals. Back in April, he bit his mother's dog and choked it so hard that the poor creature went half blind.
READ MORE: Detroit animal shelter ex-worker claims it has 'slaughterhouse' conditions
David Etzel, 37, was found guilty on Tuesday. Apart from serving one year in jail, he is also ordered to go through anger management and alcohol treatment.

Etzel was heavily drunk when he teased his mother's Shih Tzu, Cujo, to the point that the canine bit him. Etzel, who weighs more than 364 pounds (165 kg), then proceeded to return the favor by both biting and choking the dog.
His mother, Michelle, reported him to the police, telling them that her son had squeezed the pet so hard that its eye had popped out of its socket.
Fortunately, vets were able to put Cujo's eye back in. The dog has undergone two surgeries, but will remain blind in that eye, the woman said.
Trauma of this sort usually only occurs when a dog is run over by a car or attacked by another dog, the vets said, describing the cruel assault.
"I'm happy he was held accountable for what he did to my dog. My son needs alcohol treatment, and he needs anger management treatment," Michelle said following the announcement of the verdict, according to Palm Beach Post.
READ MORE: Boy bites snake: Venomous viper killed - by 17-month-old toddler in Brazil
Etzel's family has come up with a fundraising page to help Michele pay Cujo's medical bill, which ran over $2,000.

"Even though he doesn't feel good, his little tail is wagging," Michele said, the Daily News reported.