Let them eat cake! Junk food isn't linked to weight in 95% of Americans, study says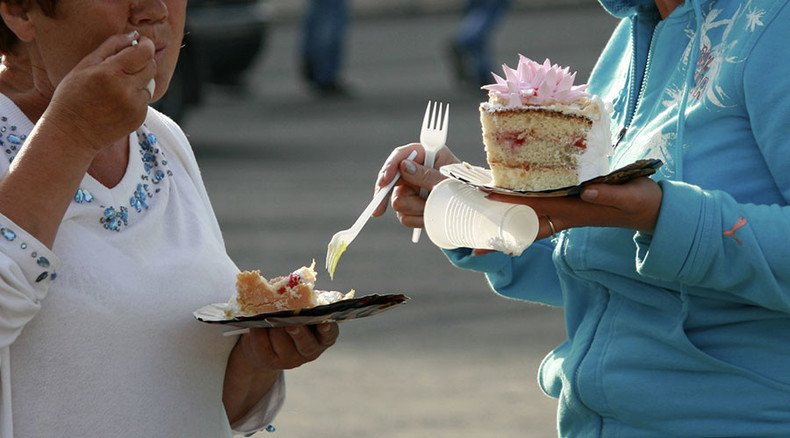 If you find yourself packing on the pounds now that summer is over, you may not want to point the finger at all those donuts you've been eating. A new study found there is no link between junk food and weight for most Americans.
The study, conducted by researchers at Cornell University and published in the journal Obesity Science and Practice on Thursday, found that people whose Body Mass Indexes (BMIs) range from 18.5 to 40 (normal to obese) enjoy junk food about the same number of times per week. This accounts for 95 percent of the US population.
The only groups that consumed more junk food on average were those who were underweight and extremely morbidly obese.
The researchers used weight and diet information from 5,000 people interviewed in 2007-2008 by the Centers for Disease Control and Prevention's National Household and Nutrition Examination Survey.
The participants were aged 18 and older, and completed two detailed surveys of what they ate in a 24-hour period. They took part in in-home visits by researchers who calculated their BMIs using height and weight measurements.
For the purpose of the study, "junk food" was defined as soft drinks, French fries, desserts, and sweet and salty snacks. But according to David Just, co-director of the Cornell Food and Brand Lab, "we can't just target these foods."
"Junk foods like soda, potato chips, candy, fast foods, those are foods that can make us fat if we eat them to excess...[But] they don't appear to be the driving factor if you look at obesity in the United States," Just said, as quoted by NBC's Today.
The researchers found that it is really the "entire diet" which contributes to obesity, and that we "just really need to cut back overall."
"If we're talking about food policy to curb obesity, if all we do is pick out a few villain foods, our policy is going to be pretty ineffective," Just said, as quoted by The San Diego Union-Tribune.
Just specifically mentioned soda bans, saying that "we can't have our whole obesity fight policy be 'let's make sodas difficult to get.' It is not enough and not productive."
In fact, nearly 70 percent of those interviewed were soda drinkers, yet soda wasn't consumed as much for those who were overweight, obese, or severely obese.
Additionally, those who were morbidly obese ate fewer salty snacks than underweight people, but reported eating more French fries than people in other weight categories.
Although the study examined frequency, it did not analyze portion size or exercise habits. The researchers' next plan to look at whether serving sizes of candy, junk food, and fast food are associated with increasing BMI.
In conclusion, the researchers recommended cutting back on total daily calories from added fats such as cooking oils, dairy, and salad dressing, as well as grains such as flour and cereal products, stating that those types of foods easily lead to increases in caloric intake.
You can share this story on social media: