Pulp Friction: Tarantino's dad sides with NYPD in anti-police brutality protest feud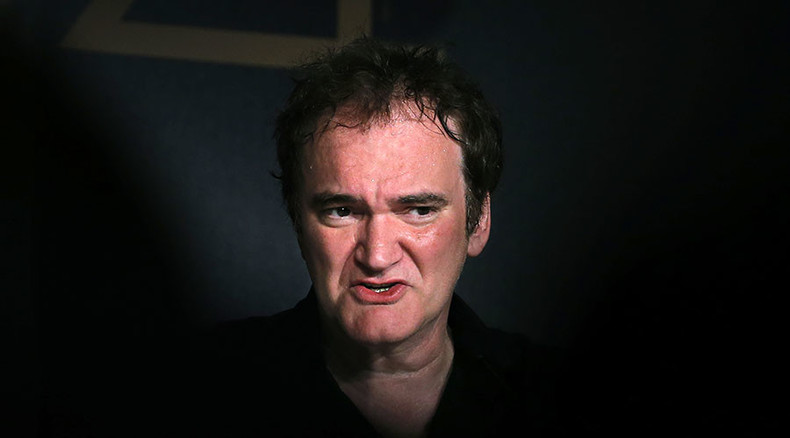 The feud between police departments around the US and filmmaker Quentin Tarantino escalated after the director's father sided with the cops, calling his son's comments at last week's protest against police brutality in New York a "hurtful mistake."
New York City's largest police union has called for a boycott of Tarantino's movies after the author of 'Pulp Fiction', 'Kill Bill' and 'Django Unchained' took part in Rise Up October, a three-day protest organized by social justice activists demanding a stop to police killings of minorities. Police unions in Los Angeles, Philadelphia and New Jersey have since joined the boycott.
"I love my son and have great respect for him as an artist but he is dead wrong in calling police officers, particularly in New York City where I grew up, murderers," Tony Tarantino said in a statement released on Friday by the Patrolmen's Benevolent Association (PBA).
"I wish he would take a hard, dispassionate look at the facts before jumping to conclusions and making these kinds of hurtful mistakes that dishonor an honorable profession," said the elder Tarantino. "Cops are not murderers, they are heroes."
The director first joined the protests last Thursday, when he read the names of people killed by the police in recent years on a stage in Times Square. Speaking at the main rally on Saturday, in New York's Washington Square Park, Tarantino said he stood "on the side of the murdered," adding that police often fell into the category of murderers.
In response, the PBA blasted Tarantino as a "purveyor of degeneracy" and called for a boycott of his films. New York Police Department Commissioner William Bratton pointed out that Tarantino's words came just days after NYPD Officer Randolph Holder was gunned down in the line of duty. Holder was African-American.
"There are no words to describe the contempt I have for him and his comments at this particular time," Bratton told WNYM-AM radio on Monday.
Police departments across the US joined in the PBA's call for a boycott. Pat Colligan, president of the New Jersey PBA, said Friday that Tarantino's rhetoric might incite people to murder police officers.
"Mr. Tarantino should be mindful of the potential dangers that can result from the dangerous rhetoric," Colligan said in a statement. "This is not a movie, this is real life where police officers lives are impacted by his words."
Earlier in the week, police unions in Los Angeles and Philadelphia also sided with their New York brethren. The president of the Los Angeles Police Protective League (PPL) said the director's "hateful rhetoric" dehumanized police and encouraged attacks.
"Questioning everything we do threatens public safety by discouraging officers from putting themselves in positions where their legitimate actions could be falsely portrayed as thuggery," PPL President Craig Lally said.
In Philadelphia, a Fraternal Order of Police lodge representing 14,000 officers voted unanimously to join the boycott, with FOP President John McNesby calling Tarantino "anti-police" and accusing him of profiting from films that project "violence and respect for criminals" into the society.
While the director has not yet responded to criticism, Rise Up October organizers and participants have condemned the boycott of Tarantino as an attack on free speech. The campaign amounts to a "mafia-style protection racket," said Carl Dix of the Revolutionary Communist Party, one of the protest's organizers.
"We must not allow the intimidation or silencing of those who use their influence to shine a light on the epidemic of police terror. Artists need to be able to express themselves on progressive causes without fear of retribution and attack," Dix said.
The police, however, appear adamant.
"[Quentin Tarantino] owes an apology to law enforcement officers across country and we will continue to encourage the boycotting of his films until he makes such an apology," said PBA President Patrick Lynch.
Tarantino's next film, 'The Hateful Eight', is scheduled to open in December.