New York police union calls for Tarantino boycott after director appears at anti-brutality rally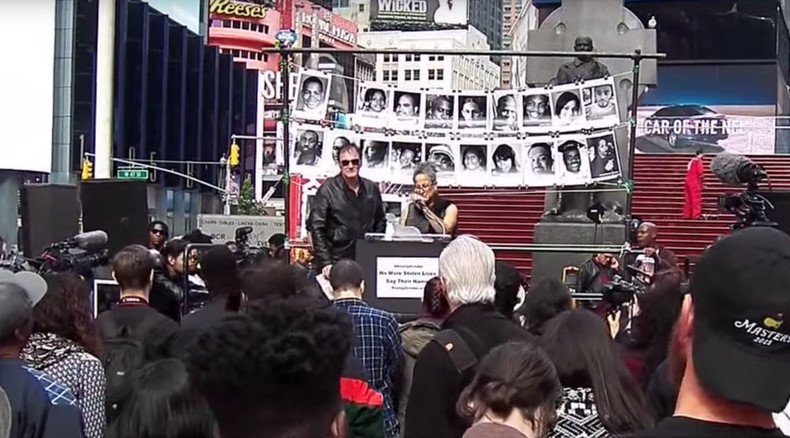 New York City's largest police union is calling for a boycott of Quentin Tarantino's films after the Oscar-winning director took part in a rally protesting the deaths of unarmed suspects at the hands of police.
"When I see murders, I do not stand by ... I have to call the murderers the murderers," the director told a crowd of protesters in New York's Washington Square Park on Saturday, adding that cops too often fall into that category.
New York Patrolmen's Benevolent Association President Patrick Lynch struck back against the director, known for 'Pulp Fiction' and other violent box office hits, on Sunday.
"It's no surprise that someone who makes a living glorifying crime and violence is a cop-hater, too," Lynch said in a statement.
"The police officers that Quentin Tarantino calls 'murderers' aren't living in one of his depraved big screen fantasies – they're risking and sometimes sacrificing their lives to protect communities from real crime and mayhem," he continued. "New Yorkers need to send a message to this purveyor of degeneracy that he has no business coming to our city to peddle his slanderous 'Cop Fiction.' It's time for a boycott of Quentin Tarantino's films."
The 52-year-old filmmaker had joined hundreds of others rallied against police brutality and deaths of suspects in police custody in a march organized by the group RiseUpOctober. The demonstration came less than a week after New York police officer Randolph Holder was killed in Harlem. Tarantino told the New York Post that the Tuesday event had "unfortunate timing," but that so many people had flown in to take part in the protest and tell their stories.
"That cop that was killed, that's a tragedy, too," he said.
Holder's relatives were not happy with the protest. The family gathered at a church ahead of the slain policeman's funeral on Wednesday.

"I think it's very disrespectful," Shauntel Abrams, Holder's cousin, told the Post. "Everyone forgets that behind the uniform is a person."
Since 2014, the media have given substantial coverage to the incidents of black men being killed during encounters with police, with activists claiming that minorities receive unfair treatment by law enforcement.

"This is not being dealt with in any way at all. That's why we are out here," Tarantino told reporters on Saturday. "If it was being dealt with, then these murdering cops would be in jail or at least be facing charges."
The Guardian estimates that more than 930 people have been killed by police in the United States so far in 2015, with 436 being white, 226 black and 143 Latino.
The National Law Enforcement Officers Memorial Fund estimates that, on average, one law enforcement officer is killed in the line of duty somewhere in the United States every 60 hours.
You can share this story on social media: