'I like all of them': Secret recordings unveil details of ex-Subway's Jared's attraction to kids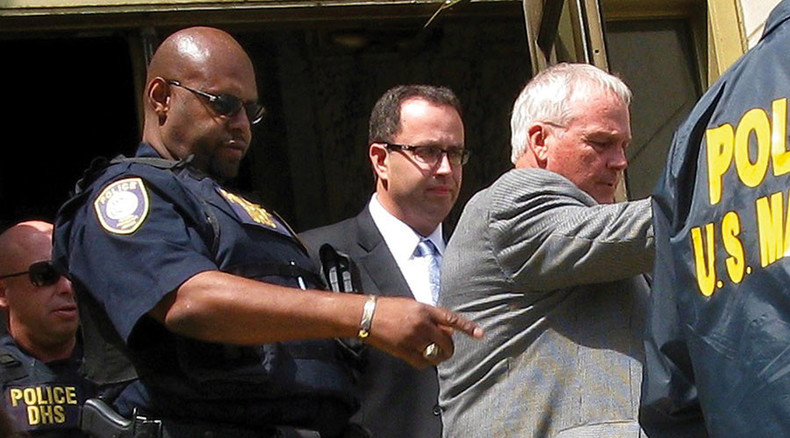 A newly released recording has shed new light on an ex-Subway spokesman's sexual encounters with children. Tapes secretly recorded by a Florida journalist and aired on TV Thursday will be taken into account in Jared Fogle's case as his sentencing nears.
Rochelle Herman-Walrond, a former journalist from Florida, had been recording phone conversations with Fogle for five years. They are now being aired for the first time on the "Dr. Phil" show across two days, Thursday and Friday.
These recordings are the most recent public evidence of Fogle's sexual attraction to children. In September, the former Subway chain spokesman agreed to plead guilty on one count of child pornography and one count of traveling to engage in illicit sexual contact with minors.
In the audio, Fogle can be heard discussing with Herman-Walrond a potential sexual exploit in "Thailand or wherever you wanna go."
"I want Kathy [presumably Fogle made a reference to his wife Katie Fogle] to be involved with us too, baby," Fogle says in a recording. "And I would fly the three of us clear across the world if we need to."
He then continues to say that "It would just make things a lot easier – if we're gonna try to get some young kids with us."
Herman-Walrond continued the conversation by asking Fogle what age of children he prefers and whom he likes most.
"I like all ages. That's the thing, I mean, I like all of them," Fogle says, and then adds that, regarding gender, "it depends who is ready for what."
READ MORE: Rare sniffer dog found key evidence against Subway's Jared

While his supposed confidant expressed feigned interest in how to make children agree, Fogle appeared to have a plan.
"We just start sharing stories, and then, you know, we get a little closer, and a little closer, and a little closer, and before you know it, it just starts to happen," he tells Herman-Walrond.
Fogle quickly switches to planning the whole thing, saying that he needs to "see if one of these boys are a possibility for us." While he did not seek out any specific "personality," Fogle did apparently scrutinize some of the children: "That girl from the broken home could be a possibility".
He is then heard asking Herman-Walrond "to show some attraction."
According to the FBI, it was aware that Herman-Walrond was recording these conversations from the start of her cooperation with the Bureau, but it says they were not part of the federal investigation.
"They were not part of our initial investigation – and it wasn't part of the infancy of any of it. We are aware of what they had to say and we took the recordings into account," US attorney's office spokesman Tim Horty said Wednesday.
Fogle made his name as Subway pitchman after losing 200 pounds on a diet consisting of the chain's sandwiches. In 2004, he set up the Jared Foundation, a non-profit organization to raise awareness about childhood obesity.
Fogle grabbed headlines in July after state and federal investigators raided his Zionsville, Indiana home in connection with a child pornography investigation into Russell Taylor, the former director of the foundation.
Fogle is scheduled for sentencing on November 19, and prosecutors are seeking a sentence of between five to 12 years in prison.