Rare sniffer dog found key evidence against Subway's Jared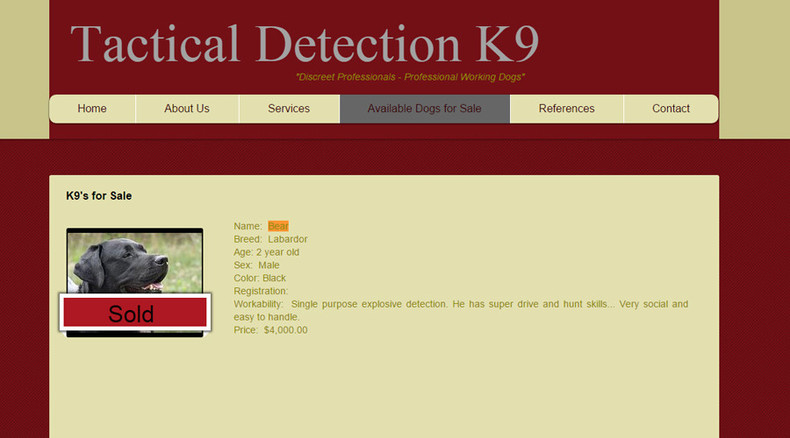 A hidden flash drive that helped prosecutors crack the child pornography case against the former Subway pitchman was found during the search of Jared Fogle's home by a special dog, one of just four in the US trained to sniff out electronics.
The two-year-old black Labrador, named Bear, accompanied investigators on the search of the Zionsville, Indiana mansion. He sniffed out a flash drive, which helped the authorities complete the criminal case against the former spokesman for the fast-food chain.
Investigators retrieved and examined a total of 16 smartphones, five cellphones, five mp3 players, five tablets, six laptops, one desktop, six hard drives, five cameras, 10 flash drives, 10 memory cards, 46 CDs and 22 DVDs during the search of Fogle's home in July, WRTV reported.
Bear had four months of training at Tactical Detection K9, a Louisville, Kentucky-based outfit that specializes in training and selling sniffing dogs. His handler, Todd Jordan, says there are only three other dogs in the entire country that can sniff out flash memory devices, based on the scent of their components.
"Bear is unique because he can sniff out SD cards, thumb drives, external hard drives, iPads and micro SD cards," Jordan told WTTV. "It's something we probably can't smell."
The dog has assisted Indiana's Crimes Against Children task force in five investigations so far. Jordan says Bear's next destination is Washington state, where he will take on a job with the Seattle Police Department. Tactical Detection K9's website lists Bear as 'Sold' for $4000.
Fogle became famous after losing 200 pounds on a diet of Subway sandwiches, becoming a pitchman for the fast-food chain and setting up a foundation to raise awareness about childhood obesity.
On Wednesday, Fogle announced he had made a plea deal with the prosecutors, promising to pay a total of $1.4 million to the 14 victims, register as a sex offender and seek treatment for a sexual disorder. Prosecutors said they would ask a federal judge for a prison sentence of no more than 151 months, rather than the 50 years that the charges would normally carry.