Subway's Jared to plead guilty to child pornography, sex with minors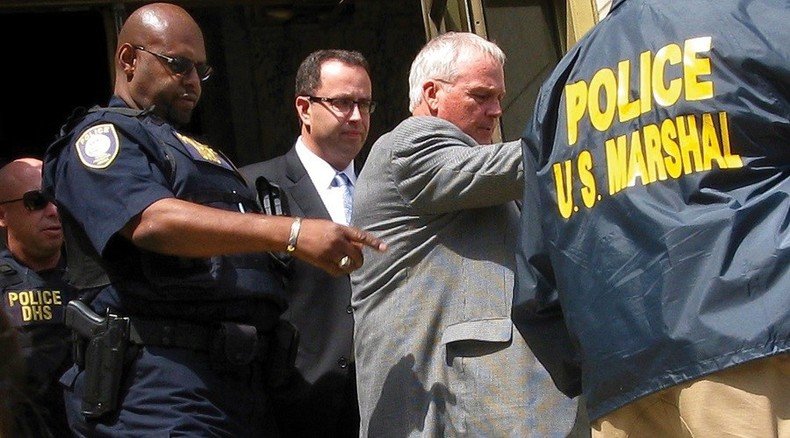 Former Subway spokesman Jared Fogle is expected to plead guilty to one count of child pornography and one of traveling to engage in illicit sexual contact with minors, according to court documents filed Wednesday morning.
Under the terms of the expected plea agreement, prosecutors will ask federal magistrate judge Mark Dinsmore for a prison sentence of no more than 151 months, rather than the 50 years the two charges would normally carry if Fogle was to be convicted by a jury. His lawyers will ask the judge for a five year sentence.
On top of the prison sentence, Fogle will pay a total of $1.4 million to the 14 victims, register as a sex offender and seek treatment for a sexual disorder, the plea agreement documents said.
State and federal investigators raided Fogle's Zionsville, Indiana home in early July in connection with a child pornography investigation into Russell Taylor, the former director of the Jared Foundation, a nonprofit organization that Fogle founded in 2004, focused on raising awareness about childhood obesity.
Taylor was arrested on April 29 and charged with three counts each of child exploitation, possession of child pornography and voyeurism. Investigators said they uncovered hidden cameras and 400 videos of child pornography on computers in his Indianapolis home after executing a search warrant there. He unsuccessfully tried to kill himself in May while imprisoned, WXIN reported.
Taylor secretly used twelve minors to produce sexually explicit photos and videos, using clock radios placed around his home to capture the victims changing clothes, showering, bathing and doing other activities, according to the charging document. Taylor then distributed the media to others, including Fogle.
Fogle received "images and videos of nude or partially clothed minors engaging in sexually explicit conduct,"court documents said. He "knew that the minors depicted in these images or videos were under the age of 18 years, including minors as young as approximately 13-14 years."
The two men discussed that Taylor was producing child pornography, and, in some of the conversations, Fogle "made comments approving of this activity and discussed some of the minors by name."
Fogle "chose to benefit" from his access to the pornography by obtaining "a significant amount of such material" from March 2011 to the end of April of this year. He also showed the footage to a third person at one point.
The charging document condemned the former Subway spokesman for not turning Taylor in to the authorities.
"If [Fogle] had promptly reported to law enforcement what he knew of these activities, then the sexually explicit material involving later victims would not have been produced," it read.
There were at least two more victims, who were 16- and 17-year-old girls, in New York City with whom Fogle came in direct contact.
Fogle paid the 17-year-old to engage in sexual acts with him at the Plaza Hotel in November 2012. The next day, he texted her, offering to pay her to find him an underage girl "to engage in commercial sex acts with him," the court documents said. "During these discussions, [Fogle] stated that he would accept a 16-year-old girl, while stating that the younger the girl, the better."
He kept in contact with her through at least January 2013. During that time, she sent Fogle photos of her genitalia and they engaged in sexual acts in exchange for money. He also asked her again for her to provide him with other minors.
"The Defendant repeatedly made travel plans in order to have his business trips coincide with his pursuit of commercial sex acts," the court documents read. He solicited escort services to provide him with "access to minors as young as 14 to 15 years" with whom he could have sex. "He did this only after engaging in commercial sexual acts with the escorts to insure that they were not undercover police officers."
Fogle became a household name 17 years ago after he attributed a massive weight loss to Subway. As a 425-pound student at Indiana University, Fogle said he ate multiple sandwiches from the chain per week and subsequently dropped more than 200 pounds in one year on the "Subway Diet." After becoming a spokesman for Subway, he garnered a net worth of $15 million, according to the New York Daily News.
Subway ended their relationship with their long-time spokesman after the July raid.
Fogle's wife, Katie Fogle, announced shortly after the plea agreement was revealed on Wednesday that she is in the process of filing for divorce, TMZ reported.
You can share this story on social media: