'Spitting' Baltimore cop charged with assault (VIDEO)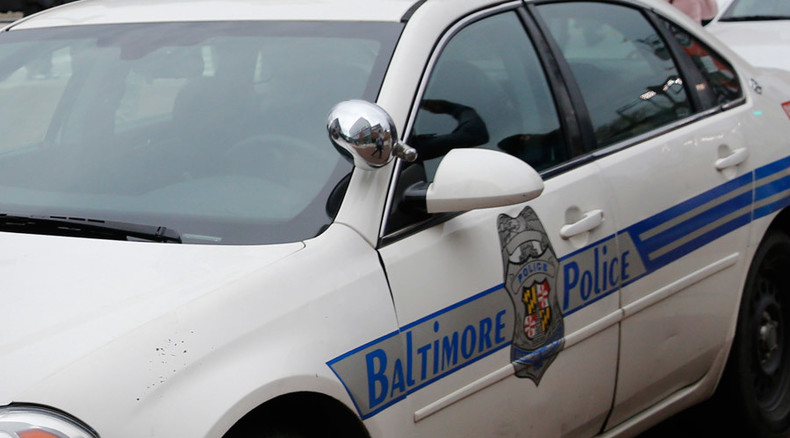 A Baltimore Police Department sergeant has been criminally charged after he was accused of spitting at a suspect who was on the ground and in handcuffs. The altercation took place earlier this month and was caught on video.
The Baltimore State's Attorney's Office charged Sergeant Robert Messner with second-degree assault and misconduct in office. Alfred Evans, 31, says Messner, a 34-year veteran of Baltimore PD, spat on him during an incident on October 12.
In the video, several people can be seen shouting back and forth with the officers, who use a Taser on Evans before wrestling him to the ground and putting him in handcuffs. Messner can be seen leaning over Evans in what appears to be a spitting motion.
(Warning: strong language)
Interim Police Commissioner Kevin Davis said that if Messner spit on Evans, the act was "outrageously unacceptable."
"It's sickening," Novana McIver, Evans's wife, told WBAL-TV, adding that her husband is very angry at the police.
According to his family, Evans was among a group of men sitting on the steps of a building when the police ordered them off and followed them down the street. Evans was charged with assault, resisting arrest and disorderly conduct.
On October 22, Evans ended up in the hospital with a spinal injury after crashing his cousin's car on Old York Road. Upon seeing a police patrol, he drove in reverse along a one-way street, in the wrong direction, hitting two parked vehicles before crashing into Wah's Dry Cleaning. He was charged with several criminal and traffic violations, including taking and driving a vehicle without the owner's consent and driving without a license, the Baltimore Sun reported.
Police spokesman T.J. Smith told reporters the October 22 crash had "absolutely nothing to do" with the events of ten days prior. However, Evans's mother Cheryl Logan told the Sun that her son was probably trying to avoid police at all costs after the spitting incident.
Baltimore Mayor Stephanie Rawlings-Blake has urged Messner to resign, adding that the incident has contributed to the already-strained relationship between police and the African-American community. Baltimore has been tense since the death of a 25-year-old black man in police custody this April. Freddie Gray was arrested for "making eye contact" and running away from officers, and died a week after his spine broke inside a police transport van. Six Baltimore PD officers have been charged with manslaughter over the incident, and are awaiting trial.
National Guard troops were called in and a weeklong curfew imposed after a riot that followed Gray's funeral on April 27. In the months since, violent crime has been on the rise while arrest rates have plummeted.