Customers outraged by Walmart's Israeli soldier Halloween costume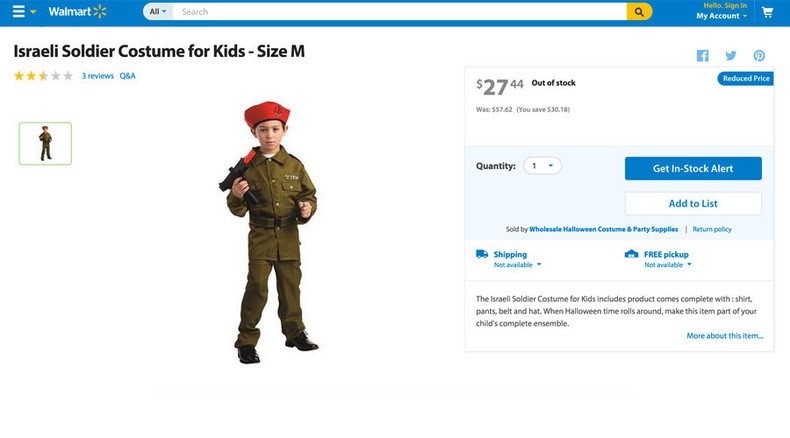 US retail giant Walmart has got into hot water for selling a Halloween costume of an Israeli soldier and a fake "Arab sheikh" nose, sparking a wave of widespread indignation.
The store's website offers sells a soldier's uniform, including a shirt, trousers, belt and hat, bearing Hebrew writing, at the price of $27.44, reduced from $57.62.
The company's official website and Facebook page were immediately flooded with angry comments labeling the whole situation "offensive" and "immoral" with one of the commenters even suggesting Walmart sell "a Hitler outfit for children as well."
READ MORE: Walmart seeks go-ahead to test drone delivery
"Your little one can now go to his friend's house, and take over their bedroom, and all of their toys and claim that God has given him/her the right to take it," said another commenter, who also provided instructions on how to handle "your little IDF soldier" once he or she put on the uniform.
Social media erupted as news of the costumes spread.
A "Sheikh Fagin nose," a latex fake nose which is "perfect for an Arab Sheikh", according to Walmart's website, has also been slammed by users.
The large, hook-nosed mask obviously promotes an anti-Semitic stereotype since its name is a reference to Charles Dickens' novel Oliver Twist, in which Fagin is a greedy Jew described as a "receiver of stolen goods."
The retail giant has not responded to the criticisms so far.
READ MORE: Walmart in hot water over 'fat girl' Halloween costume section
This is not the first time Walmart has made a fool of itself days before Halloween. Last year a collection of plus-size outfits branded as "Fat Girls' Costumes" were available for sale. The company had to apologize after the story made headlines in a number of leading newspapers.
You can share this story on social media: