Walmart seeks go-ahead to test drone delivery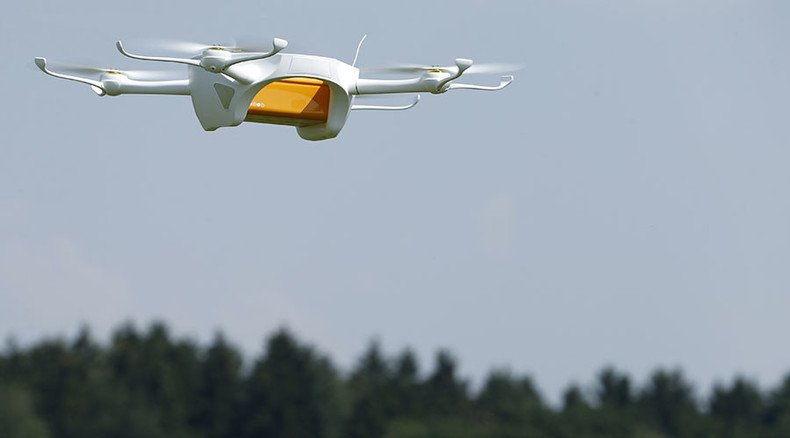 Walmart is seeking the green light to start testing drones for delivering online orders. America's top retailer joins Amazon and Google in officially applying to US regulators for permission after months of testing UAVs indoors.
The company plans to use Chinese-made drones to deliver purchases to customers at Walmart facilities, as well as consumer homes once it's given a go-ahead from the Federal Aviation Administration, Reuters reported. The retailer also wants to use drones to check warehouse inventories for its grocery pickup service and to make distribution more efficient.
If permitted, the test flights would show whether drones could be used for delivering packages to a pick-up points in Walmart's parking lots, the retailer's application said.
"Drones have a lot of potential to further connect our vast network of stores, distribution centers, fulfillment centers and transportation fleet," Walmart spokesman Dan Toporek told Reuters. "There is a Walmart within five miles of 70 percent of the US population, which creates some unique and interesting possibilities for serving customers with drones."
The commercial use of drones in US skies is currently illegal, but companies can apply in order to receive the FAA's permission. With this move, Walmart follows those of online giants Amazon and Google, which are also waiting for FAA's final approval to use unmanned flying devices.
LISTEN MORE:
Walmart says it is ready to start its outdoor trials as soon as it is given a green light by the US aviation regulator. Typically it takes the FAA 120 days to consider such petitions.
Agency spokesman Les Dorr explained to Reuters that the FAA needs to review Walmart's application to see if it's similar to the earlier requests, in which case the whole process would take less time. If it sets a precedent, though, the FAA needs to conduct detailed risk analysis and seek public comment.
The FAA has approved 1,891 special permits as of October 15 for purposes varying from aerial photography, pipeline inspections and agricultural monitoring.
Last week, the FAA established rules for both hobbyist and commercial drone pilots. Both types are required to avoid flying within five miles of an airport unless they have the air-traffic control tower's permission. Commercial drone haves also been obliged to fly below 500 feet.
The FAA is still crafting final rules for the use of commercial drones in the US. In June, the agency said it hoped to finalize rules with the next 12 months.
While waiting, come companies managed to still test drones, bypassing the US regulator's regulations. Google had been testing its single-wing "Project Wing" delivery drone over private land that it was leasing from NASA, while Amazon took its UAVs to in Canada.
You can share this story on social media: