No gun rack that big: Cops need 4 trucks to transport SC man's 7k weapons cache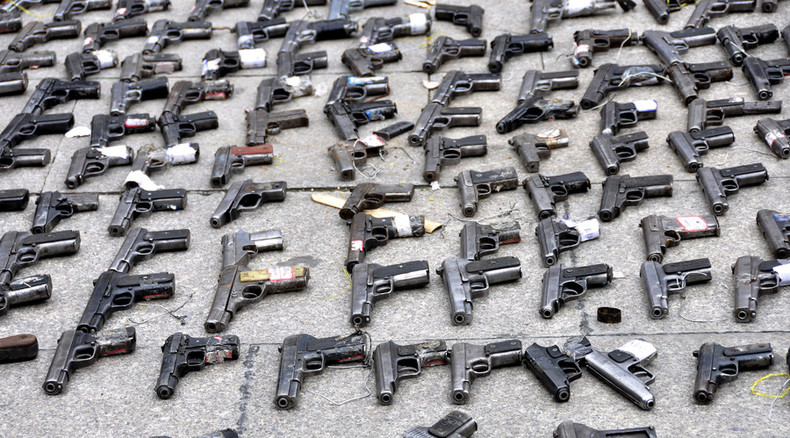 A South Carolina man has been arrested after amassing an arsenal of at least 7,000 handguns and rifles, as well as hunting crossbows, ammunition and more than 500 chainsaws, according to local law enforcement. Most of the items were likely stolen.
Brent Nicholson, 51, of Pageland, South Carolina, stored a collection of weapons and other materials in his house, a nearby storage facility, his parents' home and a liquor store he owns with his father, Chesterfield County Sheriff Jay Brooks told the Charlotte Observer.

"There were so many guns we quit counting after a while," Brooks said, adding that Nicholson's collection could as include many as 10,000 firearms.
In addition to weapons, authorities found taxidermied deer, elk, and alligator heads; hunting mounts; air compressors; four-wheelers; and various tools, most of which police believe Nicholson acquired illegally. He has been charged with possession of stolen property, Brooks said.

"He was hoarding most of it, but it's all stolen material from all over numerous counties and it's going to take a lot to sort all this out," Brooks said, according to WSOC-TV.
Deputies found the cache of weapons on Friday, when they arrived at Nicholson's home to serve an unrelated subpoena, the sheriff said. Earlier in the week, Nicholson was arrested and charged with trafficking opium and heroin, according to WNCN. Chainsaws and a welder, which had previously been reported as stolen, were found "in plain sight" when the officers arrived, Brooks told the Observer.

"They went to a judge and got a search warrant and went back to the house and found literally thousands of guns," Brooks said. "They secured the scene and called everybody in. We've been there ever since and we'll probably be working on this into next week."
Many guns looked as if they had been in storage for years, the sheriff said.

"There's no evidence that he even used them," Brooks said. "There's no evidence that he was selling them ‒ he just wanted them. His house looked like that hoarders program on TV."
Brooks said many of the items were likely bought from thieves who had raided "homes, or hunting lodges, or cabins."

"There were five [neighboring county] sheriffs standing around ‒ all of us with at least 25 years of experience ‒ and none of us have ever seen anything like this," Brooks said. "The SLED (South Carolina Law Enforcement Division) agents had never seen anything like this."
It took four 40-foot tractor-trailers to take the weapons and the loot way.

The US Bureau of Alcohol, Tobacco, Firearms, and Explosives will assist in the investigation, WSOC-TV reported.