​Mail order guns? British gangsters buying illegal weapons from US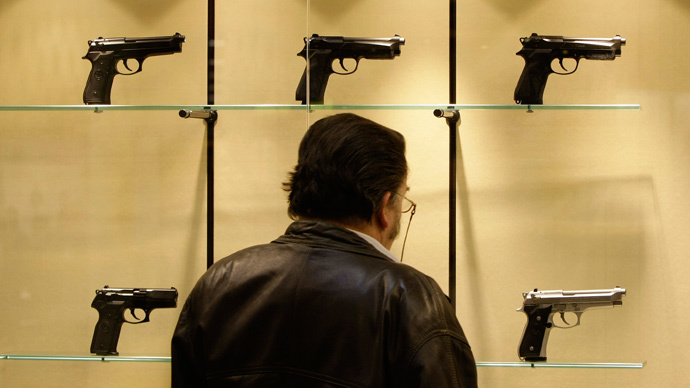 Criminals are exploiting lax postal security to import illegal firearms into the UK from legitimate retailers in the United States, senior police officers have warned.
Gangs in the UK are purchasing blank firearms, which are illegal in Britain without a license, and converting them into lethal weapons.
The United States is the source of more than half of all firearms seized at the UK border, according to a threat assessment by the National Crime Agency (NCA).
A senior police officer said criminals were turning to blank weapons because operations to restrict the supply of illegal weapons had been relatively successful.
The authorities estimate hundreds of blank guns have reached the UK from the US by taking advantage of poor postal security.
Operation Eaglehead, a joint US and UK operation to restrict the supply of blank weapons, has resulted in the seizure of 50 guns across Britain in less than two years.
READ MORE: Gun-hoarding man accidentally shot himself in head during police raid – inquest
The operation, which involves the NCA, US Immigration and Customs Enforcement and Homeland Security Investigations, collected intelligence on British residents who bought blank guns.
Authorities in the UK then recovered and seized the weapons, while in the US suppliers were warned the weapons are illegal in Britain.
Seized weapons include 12 homemade shotguns in London and a blank-firing pistol from a 14-year-old boy in Merseyside, who used his grandfather's credit card to buy the gun.
David Thompson of West Midlands Police told the Times that, once converted, the blank weapons were lethal and looked "as close to a handgun as you can get."
The deputy chief constable and national lead for firearms said criminal gangs were turning to blank guns because the authorities had been relatively successful in curtailing the import of illegal weapons.
READ MORE: Smuggled automatic weapons could be used in Tunisia-style attack – UK security chiefs
Popular firearms include Beretta blank pistols, which are treated as 'toy guns' and used for target practice in the US.
Senior NCA officer David Armond said blank firearms were the "tip of the iceberg" in many cases.
"When officers have gone to seize the replica firearm they have also found fully working ammunition, which is often being used as part of a criminal lifestyle," the director of intelligence and operations added.
According to the NCA, more than 700 firearms, including 165 guns, were seized in the UK during the first year of the agency's existence.
Founded in 2013, the law enforcement agency is tasked with fighting organized crime, including human, weapon and drug trafficking.