​Gun-hoarding man accidentally shot himself in head during police raid – inquest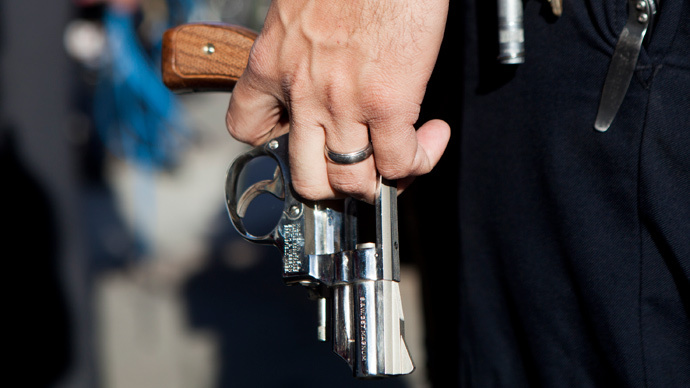 A Bradford man accidently shot himself in the head with a weapon from his illicit horde of firearms, crossbows and knives when police raided his home, an inquest has heard.
The West Yorkshire home of Colin Berry, 49, was being raided by unarmed officers searching for drugs when he produced a Smith and Wesson firearm.
Officers scuffled with Berry, resulting in an accidental discharge which struck him in the head, killing him.
Carried out with a drugs warrant in April 2013, the raid uncovered a large stash of weapons and Class A and B drugs.
The horde contained real and fake pistols, knives, various kinds of ammunition and a crossbow.
READ MORE: Smuggled automatic weapons could be used in Tunisia-style attack – UK security chiefs
In a statement, police appealed for more information about the weapons. They are "keen to hear from anyone who might have details about how and why he had these weapons in his possession."
Police raised concerns about the availability of illegal firearms earlier this week following a report into serious organized crime groups smuggling Czech-made Skorpion machine pistols into the UK.
The weapon's small size and high rate of fire make it easily concealable as well as highly dangerous. Police are particularly concerned about such weapons falling into the hands of terrorists.
"The risk from firearms remains high," the National Strategic Assessment of Serious and Organized Crime 2015 warns.
"They continue to enter the criminal market through a variety of means, including direct importation through post/fast parcels and thefts from legitimate firearms holders or dealers."
The warning comes as security is tightened around the Wimbledon tennis championships over fears there may be an attempt to stage an attack at the high-attendance sporting event.
Scotland Yard said it had increased patrols and police numbers. A mobile police reserve force has also been deployed specifically for the event.