​Smuggled automatic weapons could be used in Tunisia-style attack – UK security chiefs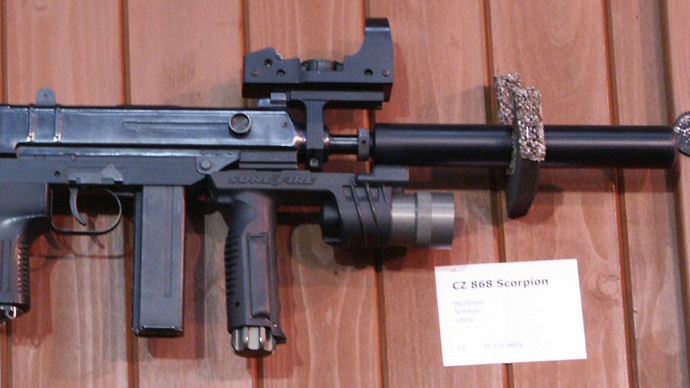 Automatic weapons smuggled into the UK could be used for Tunisia-style terrorist attacks, according to a police report. The assessment comes as security is tightened ahead of the Wimbledon tennis championships.
A report by the National Crime Agency (NCA) published last week highlights the danger of weapons brought into the country by organized criminal gangs finding their way into the hand of extremist groups or individuals.
READ MORE: Calais migrant crisis: UK to beef up border security with 9ft high, 2.5 mile fence
Concerns have also been flagged up over the availability of Czech-made Skorpion machine pistols.
The weapon's small size and high rate of fire make it easily concealable as well as highly dangerous.
The National Strategic Assessment of Serious and Organized Crime 2015 warn: "The risk from firearms remains high.
"They continue to enter the criminal market through a variety of means, including direct importation through post/fast parcels and thefts from legitimate firearms holders or dealers."
The warning comes as security is tightened around the Wimbledon tennis championships over fears there may be an attempt to stage an attack at the high-attendance sporting event, which begins Monday.
Scotland Yard said it would increase patrols and police numbers. A mobile police reserve force will also be deployed specifically for the event.
Chief Superintendent Stuart Macleod told the Independent: "We have reflected on previous operational plans and amended these where necessary to ensure we deliver a safe and secure championships for 2015.
"This year's event will be policed to a level proportionate with the current threat level."
READ MORE: Tunisia massacre: May condemns 'despicable act of cruelty,' pledges to defeat extremism
The UK threat level was raised from 'substantial' to 'severe' in August 2014. The rating reflects the view of the Joint Terrorism Analysis Centre, which reckons an attack is "highly likely."
It was also announced on Friday that Britain will deploy 2.5 miles (4km) of high-security fencing to the UK border in France in a bid to prevent illegal migrants from entering the Channel Tunnel.
Minister of State for Immigration James Brokenshire said the government was concerned about the number of migrants attempting to storm the border in recent weeks.
He also said Britain is beefing up security in the hope of preventing jihadists from entering the UK after Friday's beach massacre in Tunisia.