Black Michigan officer sues police dept. for being demoted over race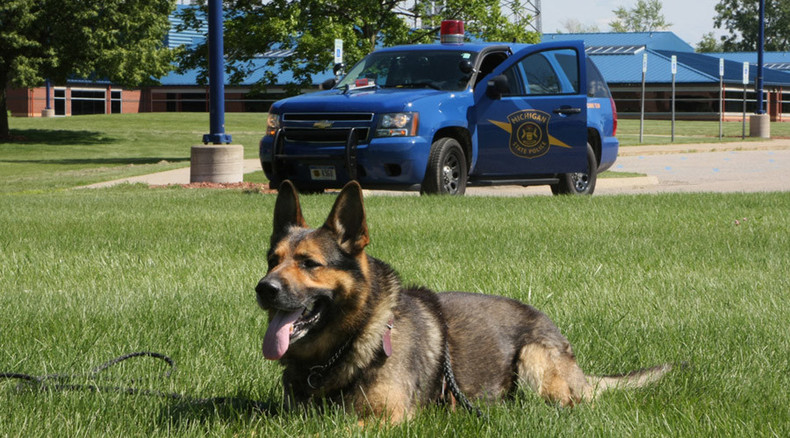 A former Michigan State Police trooper with the K-9 unit is suing his department for discrimination. Though the department claims he was demoted for leaving a shift early, the officer says it happened because he's black.
The retired officer said he was demoted in 2014 after leaving a work shift early despite being given permission by his supervisor, and for allegedly misfiling time cards.
"For them to get together with the command and concoct some crazy investigation to try and have you removed from the unit, it's clearly because I'm black," said the officer, who was the only black trooper in the K-9 unit at the time.
The police officer, who wanted to remain anonymous, filed a lawsuit claiming discrimination this week.
In addition, he claims he discovered a year earlier that a white officer whose canine partners died after being left in a car for 11 hours was given a second chance.
"It could be criminal [referring to the dogs' deaths]. It was kept hush-hush and he was allowed to stay in the unit," the officer told WDIV Detroit. "He was written a reprimand and was immediately issued two more dogs."
"He wasn't removed from the unit and I was," he told WDIV. "I don't see how the two can even be comparable."
The black officer had received several awards and glowing reviews from his unit supervisors, who described him as a dedicated K-9 unit officer, but instead he was demoted and his dogs were taken away from him.
He also claims he was the target of racially charged remarks.
"We have the representations from a white trooper that my client was called 'Buckwheat,' and my client was called 'Sambo' and other racially derogatory terms," attorney Leonard Mungo, who is representing the former officer, told WDIV.
According to the Huffington Post, Mungo has successfully sued the department in the past, recently winning a $5 million lawsuit against it for racial discrimination.
The Michigan State Police (MSP) wouldn't comment to news outlets about the litigation but it denies the allegations in court records.
MSP employs just 59 black cops, compared to more than a thousand white cops.
"It speaks to a discriminatory mindset. It speaks to a discriminatory custom and culture in the Michigan State Police," Mungo added.