1 dead, 3 injured in shooting over game of dice at TSU campus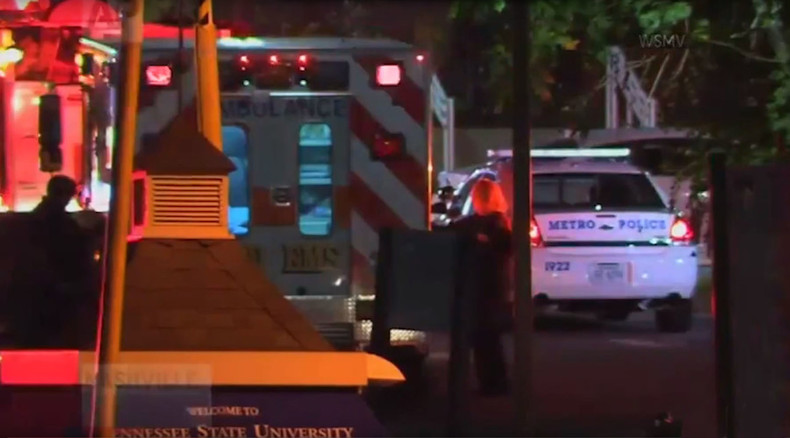 A shooting on the Tennessee State University campus in Nashville left three students injured and one visitor dead after an argument over a game of dice. The suspect fled and is still at large. This is the second TSU-related shooting in a week.
Several people involved in a dice game in the courtyard of the Floyd-Payne Campus Center got into a fight around 10:50pm Thursday. One person pulled a gun and started shooting, fatally wounding a 19-year-old. The bullets also injured three female students who were passing by, all 18 years old, said Nashville Metro Police spokesman Don Aaron.
One of the women was grazed by a bullet and declined medical assistance. The other two were taken to Vanderbilt University Medical Center for treatment. Neither suffered life-threatening injuries, according to The Tennessean.
The suspect fled the scene on foot, leaving the gun behind. His description was not available.
"If we had a good description of the shooter to give you, we would be putting that out," Aaron told reporters. "I would also remind you the report of the shots fired was at 10:52 and it was very dark."
Nashville Police have offered a cash reward for video recordings of the incident. As of Friday morning they have received at least one video and are reviewing it for evidence, the Tennessean reported.
"We do not believe this was an incidence of a random shooter on campus," Aaron said. "This was an isolated incident resulting from a dispute over a dice game. The Nashville Police Department believes this campus is safe."
1 person fatally wounded & 2 others hospitalized in Thur nite shooting @ TSU--apparent dispute over dice game in outdoor courtyard.

— Metro Nashville PD (@MNPDNashville) October 23, 2015
There have been dozens of robberies, assaults and burglaries on the TSU campus over the past three years, according to the latest crime awareness report cited by WSMV-TV.
Last week, three men were shot at a house party near the TSU campus. One of the injured was a TSU student. The three suspects are still at large.