VP Biden not running for President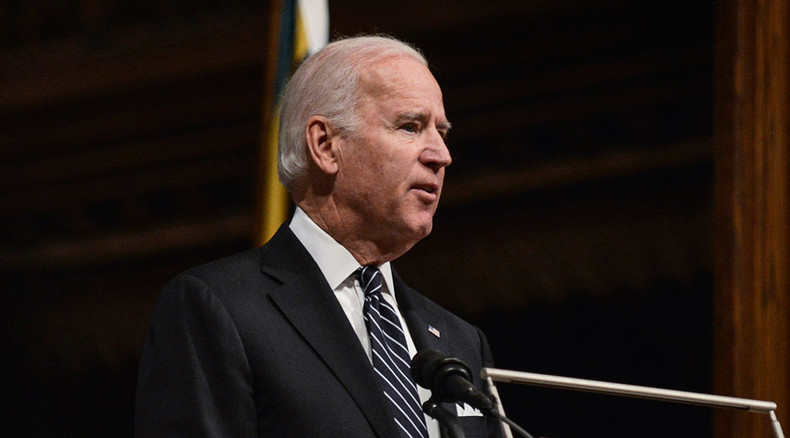 Vice President Joseph Biden has announced he will not run for president in 2016.
With President Barack Obama and most senior administration officials in attendance, Biden told reporters that the window for a campaign has closed.
Speaking to the reporters hastily assembled at the White House's Rose Garden shortly after noon Wednesday, the vice president said his family was still grieving over the death of his son Beau, who passed away from brain cancer in May. The grieving process does not abide by filing deadlines and primaries, Biden said.
The announcement put to rest a week of frenzied speculation in Washington on whether the VP would jump into the Democratic presidential race. Biden's decision is widely seen as a boon to Hillary Clinton, the current frontrunner of the party establishment, who is facing a grassroots challenge from Vermont Senator Bernie Sanders.
Though he made clear that he would not run for office, Biden spoke at length about his vision for America based on equality, education and dignity for everyone.
"I am absolutely certain that we fully are capable of accomplishing extraordinary things. We can do this. And when we do, America won't just win the future, we will own the finish line," Biden said, wrapping up the appearance.
Many Democrats waxed enthusiastic about Biden's potential run, considering Clinton a candidate with too much political baggage, vulnerable to attacks both by Sanders and Republicans. However, critics on the left have pointed out that, during his 36 years as senator from Delaware, Biden championed several laws contributing to current social issues.
At the press conference, Biden spoke about the importance of education and floated a proposal to limit tax deductions in order for the federal government to subsidize college for everyone. According to David Sirota writing for the International Business Times, Biden backed a 2005 bill that made it more difficult for Americans to declare bankruptcy, and entirely impossible when it came to student loans. At the time, one of his biggest donors was credit card issuer MBNA.
Biden also championed a 1994 gun control bill that ended up creating financial incentives for mass incarceration, Sirota noted.
Candidates from both parties reacted to Biden's announcement.
Biden's comments on how the Democrats should run on Obama's record has been interpreted by some reporters as a warning to Clinton, who has distanced herself from Obama policies like the Trans-Pacific Partnership, and elements of his signature healthcare reform bill.
Clinton, however, praised Biden's optimism and called him a "good friend and a great man."
Bernie Sanders chose to highlight the vice president's words of support for the middle class.
Louisiana Governor Bobby Jindal, one of the contenders for the Republican presidential nomination, saw Biden's announcement as opening the doors to a GOP victory in 2016. Jindal is polling around 1 percent.
Currently the most popular Republican candidate, Donald Trump, approved of Biden's decision, adding that he would rather run against Clinton.