'Assad doesn't have to leave tomorrow, can be part of transitional process' – US State Department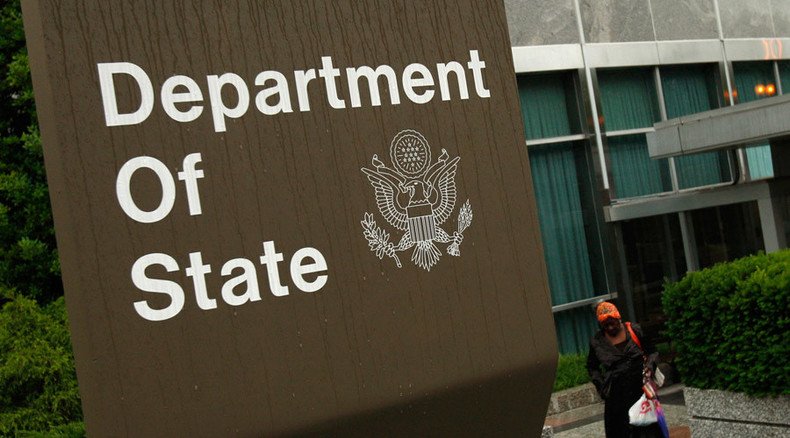 Syrian President Bashar Assad "does not have to leave tomorrow or the next day," the US State Department has stated. Washington allows that Assad may take part in transitional process, but can't be part of Syria's next government.
At the same time, the Obama administration continues to insist that President Assad cannot be a part of transitional government, once the country gets to that point.
"He cannot be part of that transitional government, however it ends," State Department spokesman Mark Toner said."He – for his many crimes against his people, for his brutality, cannot be a part of that ultimate transitional government. So – but we've not said that he has to leave tomorrow, that he has to be – that he can't be part of the transitional process."
Washington has been insisting that Syria's president must be replaced with a new leader and an inclusive government for years, while accusing Assad of committing "many crimes against his people" including "dropping barrel bombs."
"And I think it's not – this isn't the US dictating this. This is the feeling of many governments around the world, and frankly, the majority of the Syrian people," Toner said.
When asked to clarify "how long" the State Department thinks the transition process could take, Toner failed to give an exact time period.
"I can't put a timeframe on it. I can't say two weeks, two months, six months," he said, adding that the US is looking for "a political resolution to the conflict."
However, Toner appeared to be confused when asked if the political transition had started.
"No, no, not – I mean, no, that's – no," Toner replied, explaining that this is what the Secretary has been working on.
Toner then admitted that the US is still in the "process to start the process," stressing that this was "an urgent issue" that "has gone on too long."
According to the US State Department, Russia is to blame for the delay because it "continues to shore up Assad to strengthen him."

Russia regards Assad as the only legitimate power in Syria and insists that only the Syrian people have the right to determine their country's future.

"There is only one regular army in Syria – the army of President Bashar Assad. And he is confronted with what some of our international partners interpret as an opposition. In reality, Assad's army is fighting against terrorist organizations," Russian President Vladimir Putin told CBS's 60 Minutes last month.
Moscow has been supporting Bashar Assad's government with both supplies of military hardware and diplomatic efforts since the start of the Syrian civil war.
On September 30, Russia started carrying out surgical airstrikes on terrorist positions in Syria after a request for such military aid was made by President Assad. The move was criticized by the US, which accuses Russia of "propping up Assad."
The US, which continues to support what it calls "moderate rebels," has so far been reluctant to discuss coordinated action in the fight against terrorism in Syria.
Washington has been accusing Russia of bombing "moderate forces" instead of hardcore jihadists, an allegation that Moscow denies.
On Monday, Russian bombers and assault planes had attacked nearly 50 terrorist targets in the provinces of Aleppo, Damascus, Hama, Idlib and Latakia as of the daily afternoon report, according to Russia's Defense Ministry.
LISTEN MORE:
You can share this story on social media: