Bernie Sanders: Most humble US presidential candidate ever?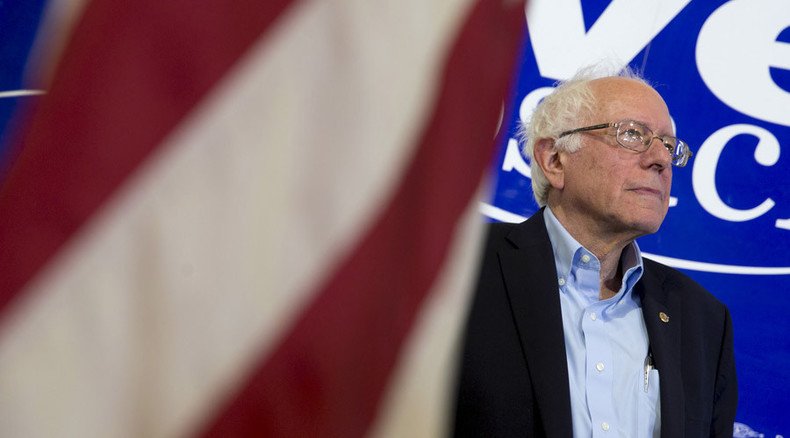 Senator Bernie Sanders is gaining on former Secretary of State Hillary Clinton in the latest poll for the Democratic presidential nomination, as his regular-guy demeanor attracts voters disgusted with private-jet candidates like Clinton or Donald Trump.
Sanders pulled in 29 percent of registered Democrats and Democratic-leaning independent voters surveyed in a new CNN/ORC poll. Clinton, however, still leads the poll, with 45 percent supporting her.
Nevertheless, the total for Sanders represents a 5-point increase from the previous national poll. The latest poll was the first since the initial Democratic presidential debate last Tuesday.
READ MORE: 6 flip flops from Hillary 'Real Person' Clinton
Sanders, a self-described socialist, is the latest ascendant candidate from the left-wing of the Democratic Party to receive grassroots support who seeks to challenge more centrist Democrats like Clinton and Vice President Joe Biden. In 2008, now-President Barack Obama played the role of spoiler, besting Clinton in the party primaries and caucuses before voters chose him for the White House over Republican candidate John McCain.
Sanders supporters on social media love to point out the humility that seems ingrained in Sanders. Whether it be sitting in coach on airline flights...
...walking to work in Washington, DC...
...or joining a picket line...
...Sanders' supporters like to highlight his down-to-earth qualities that look relatable compared to the perceived excesses of a Clinton or Trump campaign. Sanders, after all, is one of the least wealthy presidential candidates, making $205,000 in 2014. Clinton and her husband, former President Bill Clinton, have together made about $140 million in the past eight years.
Sanders' grassroots appeal was exemplified by a recent analysis in which he was found to have the most authentic Twitter followers out of all remaining presidential candidates from both major parties, according to a Vocativ, meaning he has the least bots doing his bidding on the social media site. The review found that 89 percent of Sanders' Twitter followers are real people, not pre-programmed bots, as opposed to 59 percent of Clinton's followers and 61 percent of Donald Trump followers, the two lowest totals for "real" Twitter followers among 12 candidates in the running.
In the third quarter of 2015, Sanders reported raising $26 million, putting him just $2 million shy of Clinton, who is known to be a money-raising juggernaut.
READ MORE: Bernie Sanders raises $26 million, closes gap with Hillary Clinton
Making this feat more impressive is that Sanders is supported mostly by small-dollar donations made online.
At the end of the first quarter in July, the Sanders campaign said it raised a comparatively modest $15 million from 250,000 individual donors – an average of $33.51 per donor. This was towered over by Hillary Clinton's $45 million – a record amount of first-quarter cash for a presidential campaign – from 200,000 donors, an average of about $225 per donor.
In the third quarter, Sanders' campaign got its $26 million from 1.3 million donations, with the average contribution around only $20.
READ MORE: Bernie Sanders rejects donation from pharma corp that hiked AIDS drug price by 5,000%
Sanders' message, and the popularity it's garnering in key early-voting states, is not always covered with gusto by the mainstream media. Polls out in recent weeks show Sanders is picking up support in New Hampshire and Iowa. Yet a recent analysis of broadcast news by top US networks ABC, NBC and CBS found that of a total 504 minutes devoted to the presidential race, Sanders was featured in just eight of those minutes. Donald Trump, meanwhile, received 145 minutes of coverage.
LISTEN MORE:
You can share this story on social media: