Wife of convicted former CIA spy asks President Obama for pardon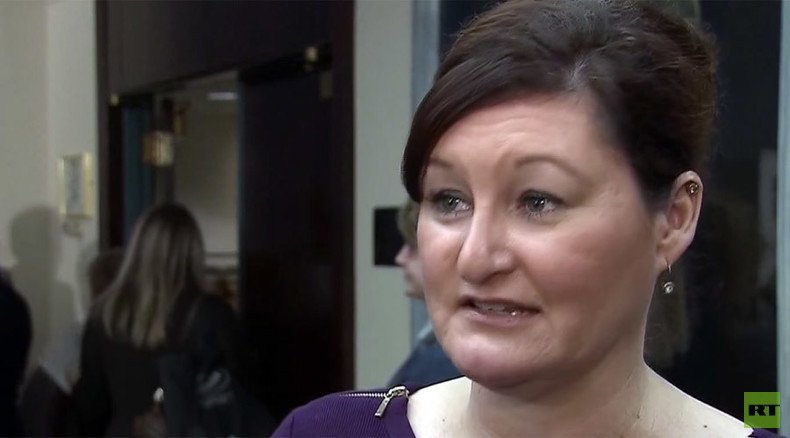 The wife of Jeffrey Sterling asked President Obama to pardon her husband, who was convicted under the Espionage Act for allegedly sharing information with a New York Times reporter. Sterling is serving three-and-a-half years in federal prison.
"Dear Mr. President, I am writing you on behalf of my innocent husband ... You know Mr. Sterling as the former 'disgruntled' CIA Officer that your administration indicted and prosecuted resulting in conviction on nine felony counts, seven of them under the antiquated Espionage Act," Holly Sterling opens her letter to President Obama, sent on Friday as she seeks an immediate pardon.
"I would like to introduce you to the real Jeffrey Sterling who is my best friend and husband for the past 11 years."
A former CIA agent, Sterling was convicted in January under the Espionage Act for allegedly leaking information to New York Times reporter James Risen about a failed CIA effort to undermine Iran's nuclear program. He's currently serving his prison sentence in Colorado.
"He's completely innocent. They had absolutely no evidence to state that Jeffrey had done this," Holly Sterling told Democracy Now. "Special Agent Ashley Hunt on cross-examine stated that fact, that there was absolutely no email records, no phone call records; no one had witnessed the two being together exchanging classified information."
"In fact, she said that she speculated that Jeffrey was the source. So he has been wrongly convicted, and I just think that, you know, he needs to be pardoned, that this was a grave injustice. And he does not need to be in prison for the next three-and-a-half years."
In her letter, Holly argued for Jeffrey as a role model, a man with "a very strong moral code of ethics" and "one of the most successful members of our family," who "enjoyed and excelled at academics." She said he joined the CIA in 1993 and served for nine years but became increasingly aware of the racism in the department concerning his assignments. He filed an Equal Employment Opportunity Complaint based on racial discrimination.
The agency reported no discrimination and fired him in January 2002. Following that, Sterling became the first African-American to file a racial discrimination lawsuit against the CIA. The case was dismissed based on State Secrets Privilege. Then Risen published a story about Jeffrey's discrimination in 2002.
Holly wrote that in 2003, Jeffrey went to the Senate Intelligence Committee about Operation Merlin, a covert CIA operation in which Sterling was tasked with giving a contact information involving a botched nuclear weapon design meant to feed the Iranians false information.
Out of work and destitute, Holly said Sterling began working for WellPoint as a Senior Fraud Investigator in 2004, where he received "many accolades." It was Sterling who caught a Medicare Fraud incident in Florida, identifying $32 million in false claims and leading to six convictions of those responsible for theft.
In the summer of 2006, the FBI started investigating Jeffrey Sterling. The Bureau issued a subpoena, searched the Sterlings' home, which left Holly traumatized, before Jeffrey was finally arrested on January 11, 2011. He was convicted and sentenced four years later.
"Mr. President ... Does the government have no shame in destroying one man's life and wasting tens of millions of dollars of taxpayer's money to punish a man who had the audacity to do two things: Stand up for his constitutional rights and utilize proper channels provide to him to express concern for the citizens of our country?" wrote Holly in her letter.
"You publicly committed to a transparent government led by your administration yet it has been shrouded in mistruth and secrecy," she added.
Holly ended her letter by telling Obama that he can right a grave injustice.
"This can only be accomplished by granting Jeffrey Alexander Sterling an immediate pardon," she wrote.
Jeffrey Sterling is not due to be released until the middle of 2018. Sterling's lawyer Norm Solomon also told Democracy Now that President Obama has the power to respond to Holly's letter by issuing an immediate pardon.
Solomon said Jeffrey Sterling was convicted entirely on circumstantial evidence. At trial, the government presented a mosaic of supposedly incriminating information that involved entirely legal activities by Sterling.
"Jeffrey Sterling, is part of a huge pattern of selective prosecution, in the case of Leon Panetta; selective sentencing, in terms of General David Petraeus," Solomon said. "And it shows how the entire judicial and executive branch process, in terms of assessing and prosecuting classified leaks, is just riddled with pollution and poisoned by political power. This administration, worse than any other in memory in this regard, has totally turned the prosecution of leaks into a politicized set of vendettas."
"And I think it's necessary – it's essential – that we recognize that there is no equality or near equality or justice under the law in this regard."
You can share this story on social media: