Ebola can survive in semen for months – CDC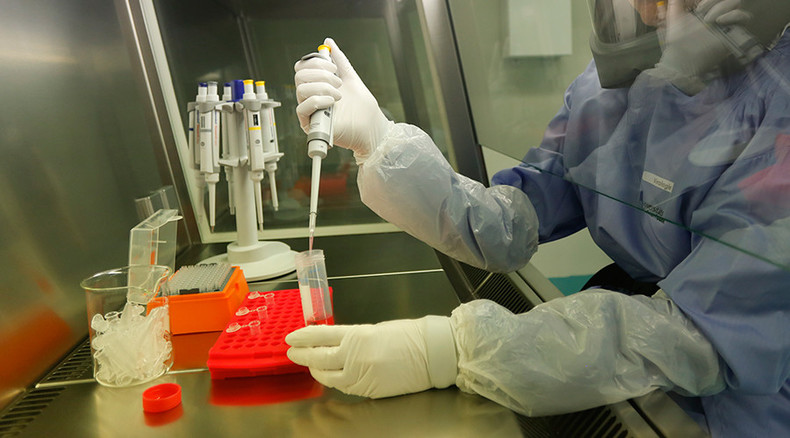 As officials continue to detect Ebola in some patients long after they contracted the virus, a new study found that signs of the disease can remain in some men's semen for nine months or longer after they first showed symptoms.
"We believe it's rare," said Dr. Barbara Knust, who helped lead the CDC's Ebola response team, to NBC News.
Announced Wednesday, the result is the first of a long-term study being jointly conducted by the Sierra Leone Ministry of Health and Sanitation, the World Health Organization (WHO), and the US Centers for Disease Control and Prevention. The first phase tested for the Ebola virus in semen because of past research showing persistence in bodily fluids. The team recruited 93 male Ebola survivors who agreed to be regularly tested after they were cleared of the virus.
After being tested three months after they got sick, nine out of nine men were 100 percent positive for the virus. Four to six months later, 65 percent of the men who were tested, or 26 out of 40, were positive for the virus. Seven to nine months later, 26 percent, or 11 out of 43 men, tested positive for the Ebola virus.
It is not clear why some study participants had cleared Ebola virus from their semen earlier than others. The men were given their tests along with counseling and condoms.
Nonetheless, it's a worrying finding regarding the disease's long-term effects that follows the most recent epidemic, which infected 28,000 people and killed more than 11,000 in Guinea, Sierra Leone and Liberia.
"These results come at a critically important time, reminding us that while Ebola case numbers continue to plummet, Ebola survivors and their families continue to struggle with the effects of the disease. This study provides further evidence that survivors need continues, substantial support for the next six to 12 months to meet these challenges and to ensure their partners are not exposed to potential virus," said Bruce Aylward, the WHO director-general's special representative on the Ebola response, in a press release.
The CDC in Atlanta is conducting further tests on the samples to determine if the virus is live and potentially infectious.
"We don't have a great understanding of what is going on in the male reproductive tract," Knust told NBC. "The testicles in particular are an area where the immune system does not have nearly as strong a presence as in other parts of the body."
The health agency said more than 8,000 male Ebola survivors across three countries need education, counseling and regular testing to know whether Ebola virus persists in their semen, and to take measures to limit exposure to their partners. The agency recommends protected sex or abstinence.
"Ebola survivors face an increasing number of recognized health complications," said CDC Director Tom Frieden in a statement."This study provides important new information about the persistence of Ebola virus in semen, and helps us make recommendations to survivors and their loved ones to help them stay healthy."
Recovered patients often complain of severe joint pain, and earlier this year a live virus was found in the eye of Dr. Ian Crozier, an American doctor who reported eye problems after he recovered from Ebola infection.
British nurse Pauline Cafferkey, who recovered from an infection last January, is in critical condition in a hospital in Scotland with what doctors' say are complications from her infection.
NBC reported that there are places where the virus can hide out in the body and remain protected from immune system cells. The testes are one place, as are the eyes, parts of the joints and the brain.
The results were published on Wednesday in the New England Journal of Medicine.