Texas councilman tased by police outside his home (VIDEO)
Published time: 12 Oct, 2015 18:05
Edited time: 12 Oct, 2015 19:32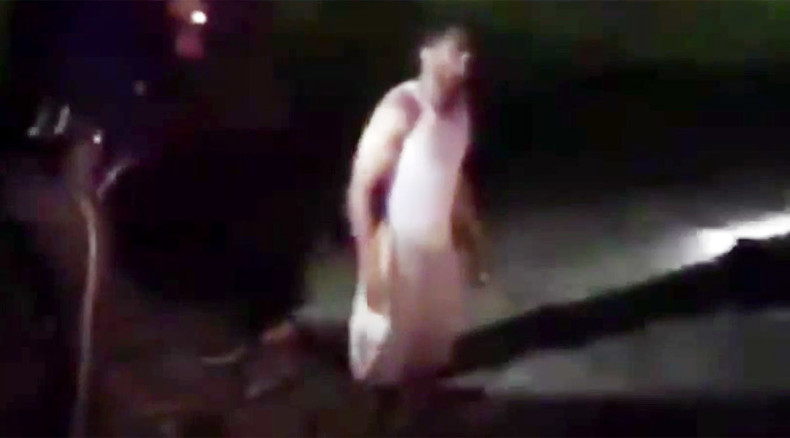 In the same Texas city where activist Sandra Bland was arrested and later died in jail, Prairie View City Councilman Jonathan Miller was tased while on his knees and turned away from officers, who say he was resisting arrest.
On Thursday evening, Prairie View police pulled up outside Miller's home as three of his fraternity brothers were preparing to practice a step routine for homecoming, according to KHOU.

"There's been drug activity, little girls and little guys in the car doing whatever, so when we see this, we come investigate," Prairie View Officer Pennie Goodie can be heard in footage from a police body camera.
Below is footage from the police body camera. The second video is further post-taser footage from police, and footage shot by Miller's friend.
Miller's friends told KHOU they were changing their shoes near one of their cars when police arrived.

"She's like, 'What are you guys doing?'" said Alaric Jones. "We're like, 'Nothing. Gonna practice some steps.' And she said, 'No it looks like you guys are doing some drug-related stuff because this is a high-drug area, high crime area also.'"
READ MORE: 'I will light you up': Sandra Bland arrest footage released after suspicious jail death

Miller, 26, came outside to check on matters. "They were at my house," he told the officers.

"OK, I don't know that pulling up," Officer Goodie replied.

"OK, that's fine, I'm not trying to be combative or anything," said Miller.

"OK, I'm not either," Officer Goodie said, at some point adding: "I understand you're coming in at the tale end of it. I just told you everything is okay. They already explained everything to me."

A second officer then told Miller to back away. "This is a scene, come on," said Officer Kelley, as he reached for Miller.

"Officer, please do not put your hands on me," said Miller.
Kelley replied, "Go over there before you go to jail for interfering, go over there before you go to jail for interfering."

Miller took a few steps away, insisting he lived at the scene.

"Go back there to the end, man. You always starting problems, so go back over there," said Officer Kelley, again insisting Miller would be arrested for interfering.

Kelley continued to demand that Miller back away, at some point reaching to grab Miller and insisting he "turn around."

"I'm not saying nothing, get your hands off me," Miller said. "I'm not saying nothing."
Kelley's body camera fell off at this point in the tape. Police said the pair fell to the ground and wrestled before Miller ended up on his knees before the officers. Police blamed Miller for the tussle.

"That's not true. That's not true," Miller's friend Brandon Wilson told KHOU. "The only wrestling was when he [the officer] slammed him on the ground. He got him on the ground so easily, he's only 130 pounds."

Wilson said Miller did not push back. "He literally grabbed him, slammed him on the ground," Wilson added.

At this point, Wilson began filming the encounter on his cell phone. Miller is seen on his knees with is arms at his sides. An officer is heard telling Miller to put his hands behind his back or else he would be tased.

"He's going to have to tase you because you're not doing like you're supposed to," Officer Goodie said, as Miller was shot with the taser.
"I live here man, I live here," Miller said after being tased.

"I told you to back off and you didn't listen," one officer said.

Miller spent the night in jail. He was charged with interfering with police and resisting arrest. His friends were not charged.

"I feel like I was checking on my line brothers and I feel like it escalated to a situation where I was tased and it shouldn't have come that far," Miller said the next morning.

The officers involved are not on leave as of yet pending an investigation of the incident, according to Prairie View Police Chief Larry Johnson.

"Comply with what the officers are asking you to do," Johnson said of the incident. "Officers were conducting an investigation. They asked that you step away from the scene and allow them to finish what they were doing, out of safety for all concerned."

Goodie was the same officer who transported activist Sandra Bland to a county jail following an aggressive traffic arrest in July. Bland hanged herself in jail not long after, police have claimed.

Miller graduated from Prairie View A&M University in May, and is the youngest member of the city council. He is currently seeking to obtain certification to teach middle school English, according to his council biography.