Kansas cop Tasers unarmed black man for parking violation, 'lies' about it in report (VIDEO)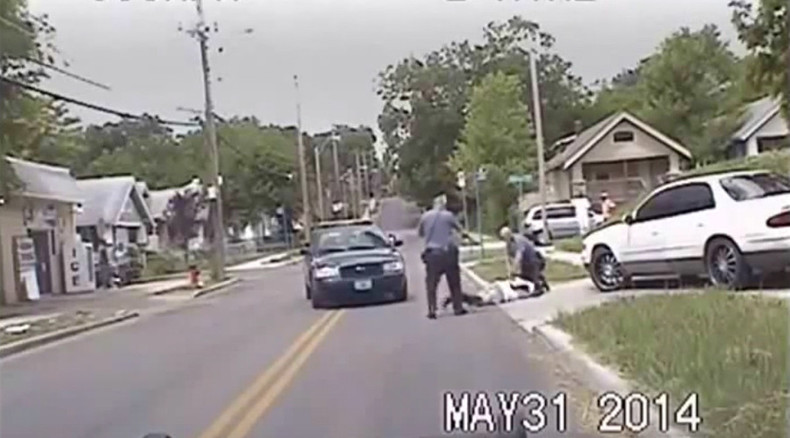 A Kansas City policeman has been accused of battery by the victim after using a stun gun during a situation involving a parking violation.
The civil lawsuit filed by Damian Words alleges that the actions of Dale Secor, the police officer, led to an unnecessary escalation on May 31, 2014, near the Short Stop Mini Mart on 51st Street.
Secor is accused of overstepping his authority by pulling a stun gun after Words refused to obey his orders, according to the lawsuit being examined by Jackson County Circuit Court, 41 Action News reports.
"This battery and injury to Mr. Words occurred because the officer by his training and the rules of the police department should have de-escalated the situation, but instead he escalated it to violence," Words' lawyer Arthur Brown said. "And then he lied about it in his report."
Both the police and Secor declined to comment.

According to police, the officer approached Words' white Buick Regal pickup parked on the sidewalk illegally. He could not determine if anyone was inside because of the tinted windows, and decided to approach, opening the driver's side door, which was unlocked.
Words, who was walking out of the store at the time, started shouting at Secor, saying he had no right to nose around in his car.
According to Secor, Words acted aggressively and refused several times to produce identification.
Secor's incident report reads that Words "got into a power stance," which forced the officer to fire his stun gun in Words' upper chest and left forearm. This was for illegal parking, failing to comply with a police officer's demands and resisting arrest.
The accused plead guilty to the parking charge in January, paying a $50 fine. But during the hearing Words said he posed no threat to Secor, and that he was actually leaning against his Buick when the cop used the stun gun.
"Secor was antagonistic, defensive and refused to listen to anything Words tried to tell him in mitigation and explanation of his responsibilities at the store," the lawsuit reads. "He could not turn his back on a store with a door unlocked and customers wandering in and out of it, even when Words attempted a gentler approach."
The footage shows Secor asking Words for an ID five times, before attempting to cite him for illegal parking. Words is then seen refusing repeatedly, before Secor tries to place him under arrest, and fails, resorting then to the Taser.
However, it did not appear from the video that Words was taking an aggressive stance. In fact, he appeared quite calm throughout the whole exchange.
The video has been shown to two experts in law enforcement, and the verdict is mixed.
"The individual did come out, I feel, in a hostile way," former FBI agent Michael Tabman said. "I think the officer had every right to be nervous and concerned for his safety."
However, Tabman added: "Over a parking ticket, he could've just written the ticket and walked away because you don't need a person's identity to leave a parking ticket."
UMKC Law Professor Rafe Foreman, who has been studying cases of Taser usage for years, believes Words was not acting angrily.
"This is an excessive use of force, this officer is not properly trained," Foreman said.
Words, who says he suffered physical and emotional trauma (including nightmares) is seeking an undisclosed sum as reparation.