Like a pilgrimage: Tens of thousands attend 20th Million Man March anniversary in Washington, DC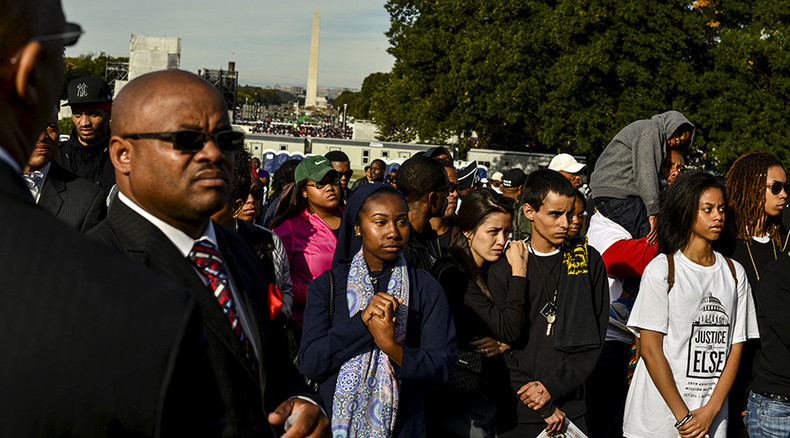 The streets of the US capital were filled with tens of thousands of black men and women, who gathered at the National Mall to celebrate the 20th anniversary of the Million Man March. Protesters called for changes to police practices in black communities.
Demonstrators waved flags, carried banners, chanted, and sang. Participants described a peaceful atmosphere with the air of a family reunion, despite the heavy presence of security barricades.
Some of the older protesters said they had attended the original Million Man March on October 16, 1995 and now brought their families to share the experience.
"This is a very special moment for me. Twenty years ago, I was by myself," AP quoted Joey Davis, 47, from Detroit, as saying. "And 20 years later, I come back with my wife and five children. And so I like to think that over the last 20 years I've been doing my part in keeping the promise of the spirit of the original Million Man March."
READ MORE: Protesters mark New Year with 'Black Lives Matter' marches across US
One of the speakers at the march was Nation of Islam leader Louis Farrakhan, who was one of the organizers of the original march. Farrakhan asked for greater police responsibility and more investigations into recent high-profile killings of unarmed African-American men and women.
"There must come a time when we say enough is enough," the 82-year-old Farrakhan said. "If I ask you your nationality, you'll point to some little spot on the map that you think defines you ... 'I'm from Georgia' – well good for you. 'I'm from Jamaica, mon,'" Farrakhan said during his speech. "You are defined by the nature in which you were created."
The protesters focused on the deaths of unarmed black men, including 17-year-old Trayvon Martin in 2012 in Florida, 18-year-old Michael Brown in 2014 in Ferguson, Missouri as well as the chokehold death of 43-year-old Eric Garner in Staten Island, New York. Such police killings have triggered a massive wave of protests across the country under the banner of "Black Lives Matter."
Judicial decisions such as the move by a grand jury not to indict Officer Darren Wilson in the shooting death of Brown, have exacerbated the situation and sparked a movement against the excessive use of police force.
READ MORE: Bernie Sanders draws record crowds, gets interrupted by Black Lives Matter
"It's something that I need to do," the 70-year-old protestor told AP. "It's like a pilgrimage for me, and something I think all black people need to do."
The original march gathered 800,000 people or more. Some estimates were as high as one million.
READ MORE: Police pepper spray activists after Black Lives Matter conference in Cleveland (VIDEO)
The 1995 march called for improving life in black communities. Back then, women, whites, and other minorities were excluded from the protest. However, this year organizers extended the invitation to everyone.
US President Barack Obama himself actually attended the first Million Man March. This Saturday, however, he is in California.
You can share this story on social media: