Protesters mark New Year with 'Black Lives Matter' marches across US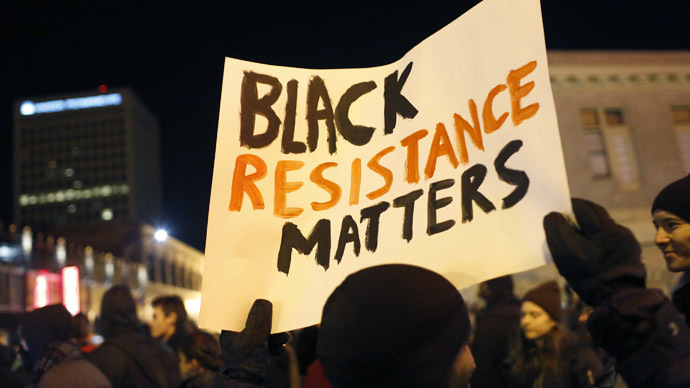 Protesters from the East to West coasts of the US ushered in the New Year with 'Black Lives Matter' marches against police brutality. In St Louis demonstrators tried to take over a police station, demanding that the "occupiers" be "removed from power."
READ MORE: 'Wake Up!' 1000s take to streets across US protesting police brutality
In a letter addressed to St. Louis Police Chief Sam Dotson and all other "occupiers of the St. Louis Metropolitan Police Department," protesters announced in August they were evicting them from the building for a range of alleged offenses, including police brutality and transforming the police department into a "militarizing occupying force."
Pics & Video from protesters attempt to occupy @SLMPD HQ this morning http://t.co/TBNtDAH3A8#Fergusonpic.twitter.com/Gr3p0PhTAX

— David Carson (@PDPJ) December 31, 2014
On New Year's Eve, protesters attempted to follow through on their promise after approximately 75 demonstrators affiliated with the activist group Ferguson Action gathered at police headquarters, and some attempted to storm the building.
Around two dozen people were charged with various offenses related to the action, one of a series in the city protesting the August 9 shooting of Michael Brown in the St Louis suburb of Ferguson.
Up north in New York, around 100 protesters descended on the city's iconic Times Square, where Mayor Bill de Blasio and his family led the annual ball drop.

The marchers failed, however, to get onto the square due to sheer number of people celebrating in the area.
Die-in by #NYE2015Protest in #NYC Times Square! #BlackLivesMatter#ThisStopsToday#ShutItDownpic.twitter.com/KX7ICMqlvL

— Ash J (@AshAgony) January 1, 2015
Police affirmed their right to protest, though they were warned the marchers they could be arrested for "disorderly conduct" if they didn't stay on the sidewalks.
Just over 200 miles east in Boston, activists staged a "die in" the city's Copley Square late Wednesday afternoon, just before major festivities got underway. Several dozen people briefly laid down in the plaza in front of the Boston Public Library, while others held signs saying "Black Lives Matter" and "a young black man is two times more likely to be shot dead by police than a young white man,"' the local CBS affiliate reported.
Demonstrators staged a die-in at Boston's Copley Square http://t.co/f186XAAIoHpic.twitter.com/yPgpExN4Wq

— The Boston Globe (@BostonGlobe) December 31, 2014

Boston's Mayor Marty Walsh and Police Commissioner William Evans had failed in their pleas that the activists not interrupt the city's "family friendly" New Year's Eve festivities with the protest.
Boston Police say the "Die-In" protestors were peaceful and cooperative. No arrests. @NECNpic.twitter.com/dVTemUWtUQ

— Kathryn Sotnik (@kathrynsotnik) January 1, 2015
Similar protests were held in Atlanta, Cleveland, Detroit and Houston.
READ MORE: 'Black Lives Matter' Xmas protest turns violent in Oakland
Out on the West Coast, the largest such march was held in Oakland, California, where up to 200 people are estimated to have marched against excessive police force.
Watch Live #nye2015protest#unionsquare to #TimesSquarehttp://t.co/DYTAvSGuPA#ows#ICantBreathe#BlackLivesMatterpic.twitter.com/JLuI3VjWdA

— Not Given (@Can_ada) January 1, 2015
Protesters converged at Frank Ogawa Plaza in Oakland – the primary protest encampment for the 2011 Occupy Oakland movement – at around 9pm local time before heading south down the main thoroughfare of Broadway.
Gathering in the intersection now - the launch pad of Oakland outrage. Maybe 200 starting to march now. pic.twitter.com/cA5SOLLXRI

— Occupy Oakland (@OccupyOakland) January 1, 2015
Some of the marchers attempted to hold a noise demo, in which voices, sound systems, musical instruments and fireworks are used as a means to get the message out. Protesters noted a heavy police presence, with cordons being set up around the march route to keep marchers from venturing out into the city.
Festive atmosphere at #Oakland#blacklivesmatter protest as helicopter shines spotlight from above. https://t.co/ATBu3R0g7s

— Kale Williams (@sfkale) January 1, 2015
According to social media reports, some protesters lobbed bottles at the police, sparking minor clashes. There are estimates that 15 people were arrested, although those numbers have not been confirmed.
Chaotic scene as cops rush crowd. Bottles flying. OPD aggressively trying to break this up quick. #oaklandprotestpic.twitter.com/f6SP6Sx6KD

— Kale Williams (@sfkale) January 1, 2015
A similar protest was held across the bay in San Francisco, where around 100 people gathered at the Embarcadero Bay Area Rapid Transit (BART) station on Market Street. Police said one person was shot in the foot on Market Street, though it remains unclear if the shooting was connected with the demonstration, the Bay City News Service reported.
#blacklivesmatter protest begins in San Francisco. pic.twitter.com/DUwjdk7OOn

— Joe Vazquez (@joenewsman) January 1, 2015
Police also kept close the marchers, with NBC Bay Area footage showing officers flanking the marchers as the marched through the streets.
Many in attendance recalled the BART Police shooting of Oscar Grant. Grant, who was commuting from San Francisco to Oakland on early on New Year's Day 2009, was shot in the back while lying face down on the platform following an altercation with police.
Reflecting on 6 years ago when I stood on the Fruitvale BART platform & watched #paramedics try to save Oscar Grant from a deadly gun shot

— Randee Deason (@2hip4tv) January 1, 2015
A grand jury's decision not to indict Officer Darren Wilson in the shooting death of Ferguson, Missouri teen Michael Brown last month sparked a nationwide protest movement against excessive police force. Just over a week later, a grand jury in Staten Island opted not to indict New York Police in the chokehold death of Eric Garner, bringing the slogan "I can't breathe" to national attention. The movement has inspired similar protests against police brutality abroad.
You can share this story on social media: