Police pepper spray activists after Black Lives Matter conference in Cleveland (VIDEO)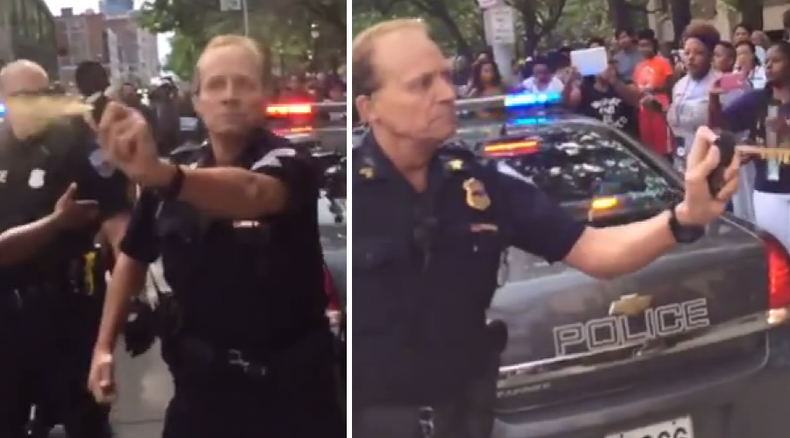 Cleveland police have used pepper spray against activists attending the national convention of the Movement for Black Lives. Scuffles and arrests were reported after the weekend conference wrapped-up and people poured onto the streets
Hundreds of activists from across the nation gathered at Cleveland State University this weekend for the first national conference to discuss escalating tensions between US police and black communities.
Following the closing session on Sunday, as most of the attendees left, dozens of people remained in the streets. Police, apparently concerned by the crowd potentially blocking traffic, moved in to disperse the gathering.
Pepper spray was used on at least one occasion, with videos being posted online showing a police officer spraying it virtually at a camera operator.
Witnesses on social networks said the crowd were spayed repeatedly.
Scuffles between uniformed officers and the activists were shown in several other videos, with people reporting a number of arrests, including that of a 14-year-old boy.
However, the crowd reportedly did not let authorities take the boy away, blocking the ambulance he had been moved into, until police eventually released him to his family amid loud chants of "we love you!"
Cleveland was chosen to host the convention because the organizers wanted to highlight the issue after last year's escalation. Over the space of one week, a black 12-year-old boy and a mentally ill woman were both killed by local cops.
"Cleveland looks just like Ferguson, looks just like Baltimore, looks just like all of these places that have high [levels of] oppression," said local organizer Malaya Davis, as cited by cleveland.com. "We wanted to highlight that and bring some attention to what's going on in this city and the state of Ohio as well."
Among notable speakers attending the conference was the father of Michael Brown, shot and killed in Ferguson. The mother of Eric Garner, who died after a police choke hold in New York City, also attended, in addition to the mother of Tamir Rice.
You can share this story on social media: