Why hasn't it worked? State Dept. dodges RT's questions on failed 'moderate' rebel training in Syria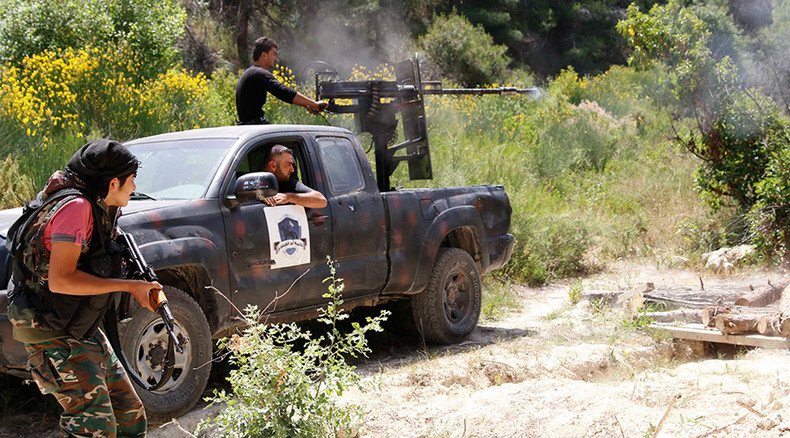 The US State Department did not have a straight answer for RT's correspondent when asked about why the program to train and equip 'moderate' Syrian rebels had failed, or why it believes the new version that is said to solely equip the rebels would work.
The State Department said the US has dropped the training program and decided to focus on just the equipping part of the plan.
"There is a pause being put in place, while we focus more on the equipping side of those groups that are in Syria now and have proven competent against ISIL [Islamic State, ISIS/ISIL]," State Department spokesperson John Kirby told RT's Gayane Chichakyan at a Friday briefing.
"Sometimes you run into obstacles and challenges you didn't know you were going to have or you couldn't have predicted," Kirby said. "I would also remind you that this particular aspect of the program is not being shelved forever."
READ MORE: Washington to overhaul its failed training program for Syrian rebels
The decision to stop the training came after senior US officials admitted that, despite the programs' $500 million budget, the US had only trained a handful of fighters. Even more disastrous was the fact that a stockpile of weapons given to the US-trained rebels ended up in the hands of terrorists, after the so-called 'moderates' willingly handed it over soon after crossing into Syria.
When it comes to the reason why the original program failed, US officials remain reluctant to open up.
A few months ago Defense Secretary Ashton Carter testified before of Congress, stating that it is difficult to identify rebels with the right mentality, who would not then turn over their weapons and themselves to Islamic State.
RT's Gayane Chichakyan reminded Kirby about Carter's statement during the briefing in the hopes of getting a response from the State Department.
However, Kirby chose to dodge the question and refer the reporter to the Defense Department. Below is their conversation:
Kirby:"I would certainly not challenge the assessment of the Defense Secretary. But if you already had that, then you probably already had at least some of the answers to your question."
Chichakyan:"But I want to hear it from you."
Kirby:"But I'm not going to give it to you, because it's not appropriate to come from this particular podium. This is the Defense Department's program."
Left without a response, Chichakyan explained why she had asked the question in the first place:
"I wanted the State Department to answer that question because that the train-and-equip program hasn't worked goes to the heart of what the Obama Administration's new policy can achieve. Who will the US be equipping? If the training part failed because they couldn't identify the right people, then why would the equipping work better?"
In the end of September, the program's failure reached a new level, as a commander of a Syrian rebel group trained by the US to battle Islamic State "surrendered" a quarter of his unit's military supplies to the Al-Qaeda-affiliated Al-Nusra Front in exchange for safe passage.
"Today the NSF unit contacted Coalition representatives and informed us that on Sept. 21-22 they gave six pick-up trucks and a portion of their ammunition to a suspected Al-Nusra Front intermediary, which equates to roughly 25 percent of their issued equipment," said CENTCOM spokesman Colonel Patrick Ryder in a statement.
The State Department now says it will provide equipment to those rebels in whom the US has a "measure of confidence." But it cannot say how the US will measure that confidence.
AP's Matt Lee didn't meet with much success either, when grilling Kirby about the issue.
"This measure of confidence – what unit of measurement are we talking about here?" Lee asked.
"I don't think we can enumerate it," Kirby responded, adding that "the measure of confidence" will be based on knowledge and previous experience.
Some critics strongly believe that the whole concept of "moderate" Syrian rebels is a myth.
"The whole business about funding moderate rebels has always been a bit of a fantasy. There is nothing moderate about what they are being trained to do. There is nothing moderate about forming a militia and then going and killing as many police and soldiers of a sovereign state as you can," political analyst Dan Glazebrook told RT.
"The Free Syrian Army – the so-called moderate rebels – celebrated their arrival in Aleppo for example by planting 2,000-kilo bombs in the city center and looting the city's schools. This whole idea of moderate rebels was always a myth. It was always a way of channeling weapons into ISIS," he argued.
READ MORE: US senator says Washington's $500 million Syrian training program aided terrorists – report
The US training program has also been slammed by some American politicians. On Wednesday, US senator Chris Murphy criticized the program, stating the money should go to aid refugees instead.
"My concern from the beginning was that we were going to end up unwittingly aiding and abetting terrorist groups like al-Qaeda," Murphy, a Democrat from Connecticut, told Sputnik news agency, adding "I am sorry that my concern turned out to be true."
LISTEN MORE:

You can share this story on social media: