US-trained Syrian rebels 'gave 6 trucks, ammo' to Al-Qaeda affiliate – CENTCOM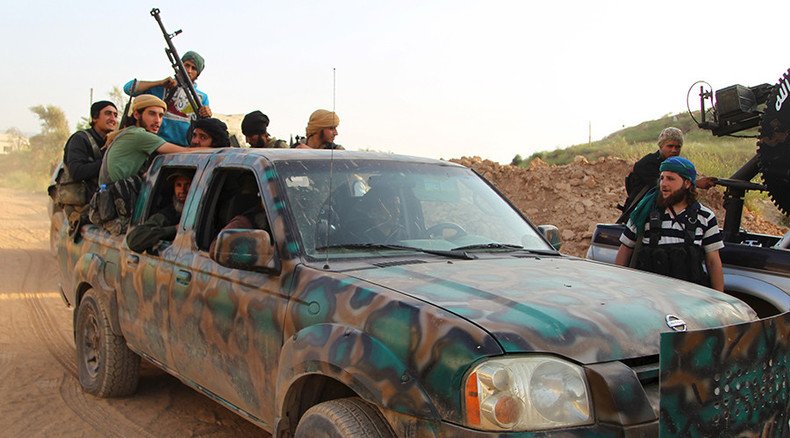 The commander of a Syrian rebel group trained by the US to battle Islamic State "surrendered" a quarter of his unit's military supplies to the Al-Qaeda-affiliated Al-Nusra Front in exchange for safe passage, US Central Command said it learned on Friday.
More specifically, CENTCOM said the equipment given away by the commander included six coalition-issued pick-up trucks as well as ammunition. It doesn't appear that the commander gave the supplies directly to Al-Nusra, according to CENTCOM, but rather transferred them through an "intermediary."
READ MORE: 'Total failure': Only '4 or 5' US-trained rebels are fighting in Syria, US general says
"Today the NSF unit contacted Coalition representatives and informed us that on Sept. 21-22 they gave six pick-up trucks and a portion of their ammunition to a suspected Al Nusra Front intermediary, which equates to roughly 25 percent of their issued equipment," said CENTCOM spokesman Colonel Patrick Ryder in a statement.
"If accurate, the report of NSF members providing equipment to Al Nusra Front is very concerning and a violation of Syria train and equip program guidelines," he added.
The statement seems to vindicate reports from earlier this week stating that a group of rebels had surrendered their weapons stockpile after crossing the Turkish border into Syria. At the time, there were conflicting reports about whether the rebels had been captured or had betrayed the US-led coalition.
CENTCOM initially claimed the reports were false after analyzing an image of a rifle tweeted by Al Nusra earlier this week. It said the image was an old one taken from a Facebook page and that NSF members were reporting that all their equipment was accounted for. It appears now, however, that this information was inaccurate.
"In light of this new information, we wanted to ensure the public was informed as quickly as possible about the facts as we know them at this time," said Colonel Ryder. "We are using all means at our disposal to look into what exactly happened and determine the appropriate response."
If true, the news represents another blow to US-led efforts to train Syrian rebels to fight Islamic State militants. Last week, it was revealed that only four or five US-trained rebels are still fighting in Syria, with many calling the training program a complete failure.
LISTEN MORE:
You can share this story on social media: