Americans being radicalized by ISIS at 'unprecedented' rate - report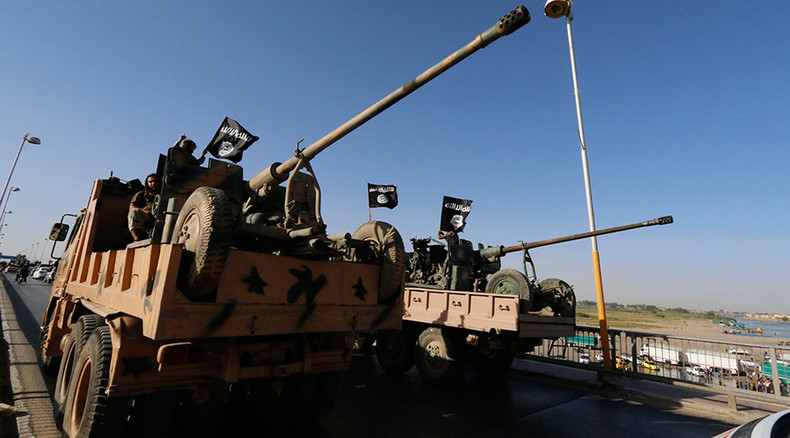 The United States has "largely failed" in its effort to keep Americans from joining the Islamic State extremist group in Iraq and Syria, and the government lacks a national strategy for combating the trend, a bipartisan congressional report stated.
Released on Monday, the report found that the federal government has generally failed to keep more than 250 Americans from leaving the country to join Islamic State (IS, also known as ISIS/ISIL) since 2011. Overall, nearly 30,000 people from around the world have traveled to the region in the same time frame.
"Despite concerted efforts to stem the flow, we have largely failed to stop Americans from traveling overseas to join jihadists," the House of Representatives' Homeland Security Committee concluded. "Of the hundreds of Americans who have sought to travel to the conflict zone in Syria and Iraq, authorities have only interdicted a fraction of them."
The report stated that "several dozen" Americans have also been able to reenter the US after traveling to the conflict zones. It cautioned that Americans are being radicalized at an "unprecedented speed," and that they hold armed combat experience as well as extremist connections. Even if they don't come back to US shores, they seek to continue radicalizing others by way of the internet.
"Our nation faces a grave and growing threat from foreign fighters," said committee Chairman Michael McCaul (R-Texas). "Sadly, global efforts have failed to stop the flow of these aspiring jihadists into Syria, and we have already seen 'returnees' from the conflict zone come home to America and Europe and plot acts of terror."
Additionally, the report stated that the US lacks a national strategy for stemming the tide of foreign fighters and blocking terrorists from traveling, and that it has not developed one in almost 10 years. It called for a global database of foreign fighters and for quick, more effective information sharing between foreign countries.
According to CNN, more than 7,000 people have joined IS in the last nine months. Most of them originate from North Africa and elsewhere in the Middle East, but the House committee highlighted security gaps in Europe that have created a "jihadi superhighway," since many Americans attempting to join IS end up moving through Europe.
Meanwhile, the fact that Europeans can travel to the US without applying for a visa also creates a security gap, since it means radicalized fighters can potentially enter the US easily, the report said.
"Gaping security weaknesses overseas – especially in Europe – are putting the U.S. homeland in danger by making it easier for aspiring foreign fighters to migrate to terrorist hotspots and for jihadists to return to the West," the report stated.
The report comes on the heels of President Obama's speech at the United Nations on Monday, during which he said the US would be open to working with Russia and Iran on dealing with the conflict inside Syria, which has also helped fuel IS extremists in Iraq.
The House report made 32 recommendations and lawmakers said they would work on crafting legislation based on them. Chairman McFaul also urged international leaders to "redouble their efforts" against terrorist travel at the UN.
"These are real threats, requiring real solutions and commitments," said Democratic Rep. Loretta Sanchez (D-California). "Moving forward, it is critical that we continue to tackle this problem together in order to facilitate action and progress."