'I oppose it:' Hillary Clinton comes out against Keystone XL pipeline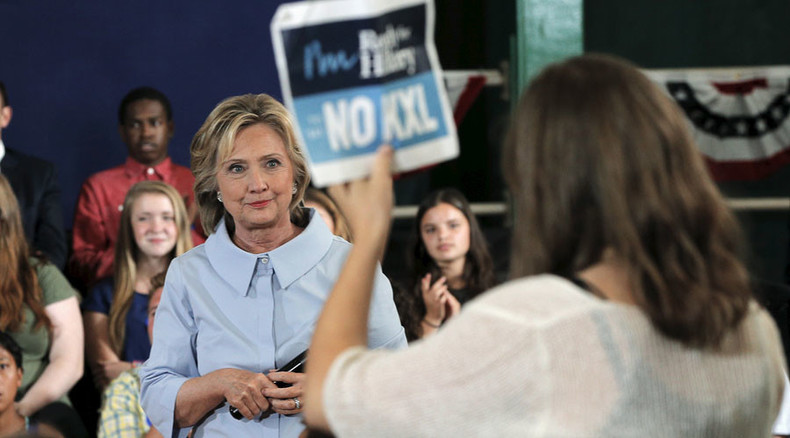 After months of declining to take a position, Democratic presidential candidate Hillary Clinton has said she opposes the construction of TransCanada's controversial Keystone XL pipeline.
"I think it is imperative that we look at the Keystone XL pipeline as what I believe it is: A distraction from the important work we have to do to combat climate change, and, unfortunately from my perspective, one that interferes with our ability to move forward and deal with other issues," Clinton said during a campaign event in Iowa Tuesday, according to NBC News.
"Therefore, I oppose it. I oppose it because I don't think it's in the best interest of what we need to do to combat climate change."
The announcement was met with applause from her campaign supporters.
TransCanada issued a statement after the announcement, without referring to Clinton.
"Our focus remains on securing a permit to build Keystone XL. 17,000 pages of scientific study have concluded the Keystone XL would have minimal impact on the environment," the statement read. "[The State Department's] Final Supplemental Environment Impact Statement concluded that greenhouse-gas emissions would be 28 to 42 percent lower with the pipeline."
TransCanada added that Keystone XL would help create over 40,000 jobs and generate $2 billion in earnings.
Meanwhile, Republican presidential candidate Jeb Bush dinged Clinton on Twitter.
As secretary of state, Clinton was reticent to give her opinion on the project, and she postponed offering an opinion in July as President Obama and Secretary of State John Kerry reviewed the pipeline's environmental impact.
The pipeline was first proposed in 2008. If approved, it would carry oil 1,179 miles from Canada's tar sands to Nebraska, where it would connect to an existing pipeline and continue traveling south.
In 2012, Obama vetoed a proposal supporting the pipeline, but TransCanada Corp subsequently reapplied for another permit.
Environmentalists have urged the president to reject it again, arguing that the pipeline would make it easier to drill for oil in Canada's tar sands – a dirty process which in and of itself burns a lot of energy. The State Department is also seeking input from the Environmental Protection Agency and the Interior Department on the project's potential environmental ramifications
The project has also sparked opposition from Native American tribes, particularly those living on the Nebraska land that the pipeline is expected to run through.
Supporters argue that building the pipeline will create jobs and boost the United States' energy independence. However, only some 50 people would be required to maintain it after construction.
"The fact is, Keystone would create only 35 permanent jobs – a drop in the bucket," said Senator Charles Schumer (D-NY). "A fried chicken franchise creates about as many jobs."