Oklahoma death row inmate seeks stay of execution over claims of innocence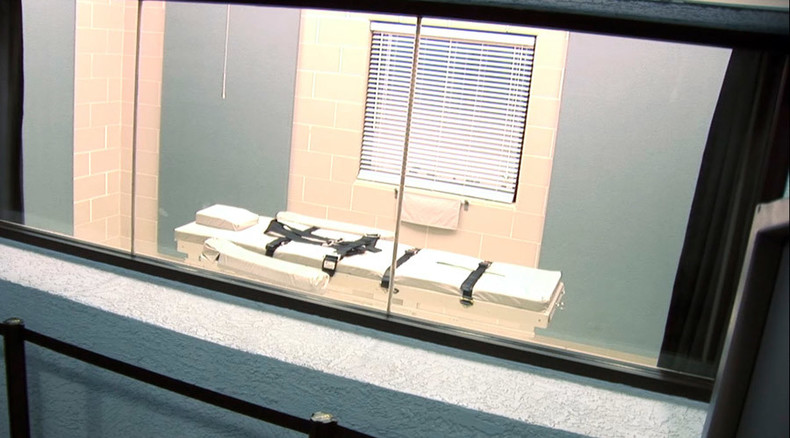 Oklahoma death row inmate Richard Glossip is seeking a stay of his execution which is scheduled for Wednesday. He was convicted of ordering the beating to death of his boss in 1997, but an appeal argues that new evidence shows he was framed.
Glossip's lawyers went to the Oklahoma Court of Criminal Appeals on Tuesday to request an emergency stay of execution. They argued that new evidence includes a statement from an inmate who served with Justin Sneed, the man convicted of killing motel owner Barry Van Treese, who was Glossip's boss. Sneed allegedly admitted that he set up Glossip.
Sneed is serving a life sentence, according to the Associated Press.
Glossip's lawyers say the court needs time to hear new evidence before the execution. Glossip is due to be executed at the Oklahoma State Penitentiary in McAlester on Wednesday.
If the state goes ahead with his execution, it will be the first time the penitentiary will use the controversial drug midazolam in a lethal injection since a divided Supreme Court allowed its use. Two justices at the time said the entire capital punishment system should be re-examined.
Midazolam is said to cause unconsciousness, but critics say that it fails to produce the deep, coma-like unconsciousness necessary to prevent a prisoner from feeling the painful effects of the other two drugs in the protocol, CNN reported.
Glossip told the AP during a telephone interview that he will "hope for the best," referring to a stay in the execution.
Glossip's case has drawn attention from death penalty opponents, and his family and supporters rallied Tuesday at the Oklahoma Capitol. They want Republican Governor Mary Fallin to issue a 60-day stay, but Fallin has repeatedly said she wouldn't grant the request.
Fallin has already denied a separate request for a stay because she didn't agree that the lawyers had presented enough of a new case. She did, however, suggest that Glossip's lawyers approach the court to request an indefinite stay of execution or a retrial, which are the proper venues to present new information or evidence.
"In the event that a court refuses to issue a stay, Richard Glossip will be executed [Wednesday]," Fallin said. "I hope the execution brings a sense of closure and peace to the Van Treese family, who has suffered greatly because of Glossip's crimes."