Bezos vs. Musk? Amazon CEO plans to build, launch rockets off Florida coast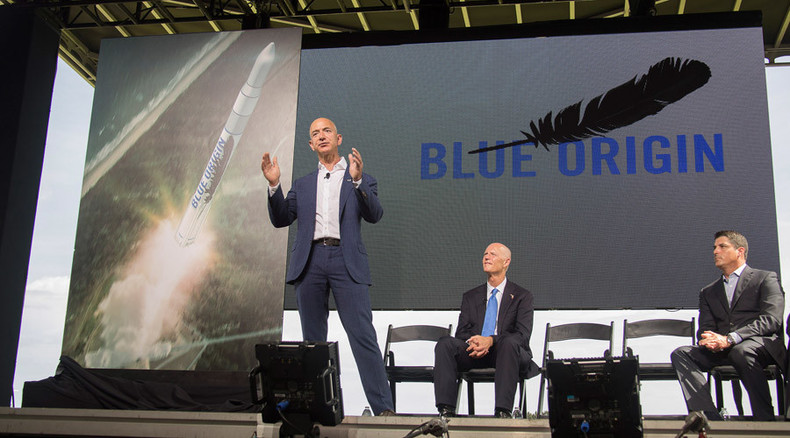 Just like billionaire CEOs Elon Musk of SpaceX and Richard Branson of Virgin Galactic, Amazon.com founder Jeff Bezos' Blue Origin company has announced plans to construct and launch rockets off the coast of Florida.
The new operation will be located at a refurbished Cape Canaveral Air Force Station in Florida, very close to NASA's Kennedy Space Center, where launch pads have remained unused for about a decade. Blue Origin will dedicate itself to making reusable systems, like orbital launchers, that could potentially cut slash the price of spaceflight dramatically.
"As a kid, I was inspired by the giant Saturn 5 (Apollo moon) missions that roared to life from these shores. Today, we're thrilled to be coming to the Sunshine State for a new era of exploration," Bezos said at the launch site on Tuesday, according to Reuters.
Currently, Blue Origin is hard at work developing a new set of rockets that Bezos hopes will be ready for launch by the end of the decade. Tentatively called "Very Big Brother," the vehicle will be capable of carrying humans into space, allowing them to reach heights of 250 miles above the Earth – where the International Space Station resides – and higher.
However, these rockets will not carry humans right away – at least, not until test flights involving the transport of cargo or satellites have successfully been conducted, the Los Angeles Times reported.
"Reusability is the key to lowering the cost of getting into space," Bezos said, as quoted by the LA Times.
The first rocket designed by the company, called New Shepard, was tested in April in Texas. The rocket, which can potentially carry six people, is able to reach heights of 62 miles above Earth and was designed to feature a reusable rocket booster system.
Additionally, Bezos said that the new rocket fleet would be powered by the new BE-4 engine which is currently under development in partnership with Boeing and Lockheed Martin's United Launch Alliance (ULA) program. Announced last year, the new engine is intended to replace the Russian-made RD-180, which is used in the Atlas V rocket launch system.
READ MORE: Boeing, Lockheed teaming up with Amazon's Bezos to replace Russian rocket engine
The BE-4 engine may also be used by the ULA's upcoming Vulcan rocket, which the firm says could potentially cut the price of launching a rocket from $225 million to $100 million by employing reusable engines. Bezos told Reuters that he did not know whether the engine would first be deployed for Blue Origins or ULA, which is scheduled for a 2019 launch.
In September 2015, Blue Origins said that it is on pace to have the BE-4 engine qualified for flight in 2017.
In bringing Blue Origins to Florida, Governor Rick Scott said Bezos will pump more than $200 million into the local economy and create 330 jobs, NPR reported.
Bezos has also deepened his involvement in what is fast becoming a private industry space race featuring billionaires at the helm. SpaceX, the spaceflight company founded by Tesla CEO Elon Musk, has already aunched several rockets that have shipped supply cargo to the ISS, while also working on creating reusable rockets.
The company suffered its first major setback in June, when an unmanned Falcon 9 rocket carrying ISS cargo exploded shortly after launch. Its reusable rocket stage has yet to land successfully, but the SpaceX remains optimistic.
READ MORE: 'Pretty crazy failure': SpaceX rocket blast blamed on weak steel strut
Virgin Galactic, founded by billionaire Virgin Atlantic founder Richard Branson, meanwhile, is also expanding its space ambitions. First established with the goal of sending tourists into space, Galactic recently announced that it's working to power up its rockets so that they can carry satellites into space, The Washington Post reported.
Branson's project also suffered a loss last year, when a SpaceShipTwo craft crashed, killing one of the pilots.