Cincinnati fires scandalous police chief for staff abuse, low morale, & rising crime rates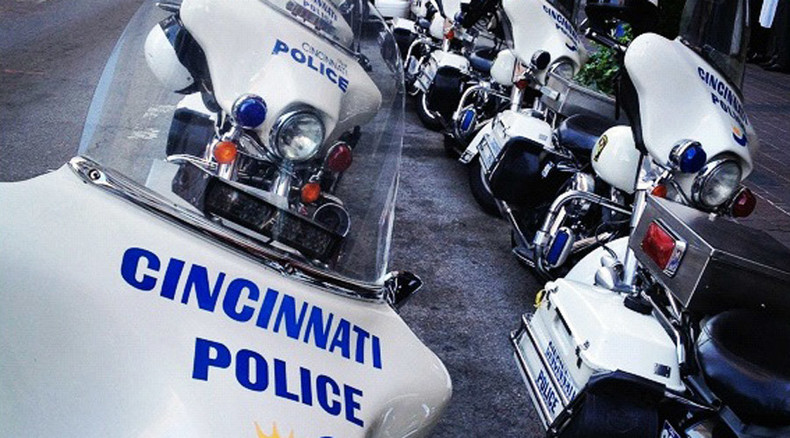 Cincinnati Police Chief Jeffrey Blackwell has been fired by the local City Manager following months of criticism for "ineffective leadership" and creating "an environment of hostility and retaliation" deemed unaffordable amid "a spike in violence."
"Mr.Blackwell has not provided the necessary leadership to ensure a cohesive operating environment within the department," Cincinnati City Manager Harry Black wrote in a memo announcing the firing to Mayor Cranley and members of city council.
Prior to the announcement, the police union had been planning to hold a no-confidence vote on the chief next week on September 14, which would have been a first for Cincinnati.
Black has appointed Assistant Chief Eliot Isaac, 49, as interim police chief. A 26-year veteran, Issac became assistant chief in July.
Blackwell was called to City Hall at 11 am on Wednesday, where City Manager Harry Black, along with a representative from human resources, terminated Blackwell's employment with the City of Cincinnati "for cause," according to the memo.
"Lack of sufficient and proper communication, particularly within the command staff, coupled with a consistent and pervasive disregard for the chain of command, have had a significantly negative impact on operating cohesion and effectiveness within the department," Black wrote. "At a time in which our City, like so many across the Country, is facing a dangerous spike in violence, we simply cannot afford such ineffective leadership."
Black wrote that "these and other concerns" had prompted him to launch an investigation into the department that had uncovered "serious" problems.
According to the extensive review, Blackwell verbally abused and insulted staff as well as created "a work environment of hostility and retaliation."
Staffers have been "threatened and berated, in the presence of subordinate officers, superior officers, and members of the public."
"This tactic has served to damage morale and has caused a number of officers and CPD civilian employees to seek treatment for anxiety and stress caused by this environment," Black wrote.
It appeared that Blackwell's favored group of officers inappropriately received overtime, while his executive team remained disregarded and alienated.
During Blackwell's service, morale was "at unacceptably low levels, which hinders department cohesion and effectiveness at a time of great need," the memo continues, adding that the former CPD chief was "unavailable" during critical public safety moments and turned out to have put integrity of the police department at risk.
"Mr. Blackwell also used his position to extract tickets to sporting events from then Commander of the Central Business District, Capt. Paul Broxterman. On several occasions Mr. Blackwell, either personally or thru his staff, would request that team contacts be utilized to acquire tickets for his personal use for an upcoming game," the memo says.
The investigation also revealed that Blackwell was obsessed with his own publicity and self-promotion.
Blackwell's termination comes amid a sharp increase in shootings and a rise in violent crime in the city.
According to the most recent crime data, for the period from January 1 to August 22, overall crime increased citywide by 3 percent in 2015 compared to 2014, as violent crime rose by 3 percent, going from 1,462 crimes to 1,511, and shootings increased by 30.1 percent, from 236 to 307, Cincinnati.com reported.
Last summer, City Manager Black called on Blackwell to reduce the number of shootings citywide by 5 percent and the overall crime by 10 percent, but the plan was never fully implemented.
In May, Blackwell offered to quit during an argument about Black's involvement in the department, and a separation agreement was drawn up, but not accepted.
It included Blackwell's $136,000 salary for a year, a $5,000 lump sum payment, a year of health insurance coverage, and all of Blackwell's vacation time
In return, Blackwell would have had to agree not to sue the City, and neither the city nor Blackwell would have been allowed to say anything disparaging about the other under the proposed settlement.
In a brief comment to Local12.com, Blackwell said that the move to fire him had been politically motivated since everything he had attempted to do during his service "was for the good of this entire city."
"So, everyone can see through the lines, the political shenanigans that Mayor Cranley and Harry Black have done since I've been here. I'll leave it there."