McAfee launches 2016 bid, says politicians 'illiterate' on technology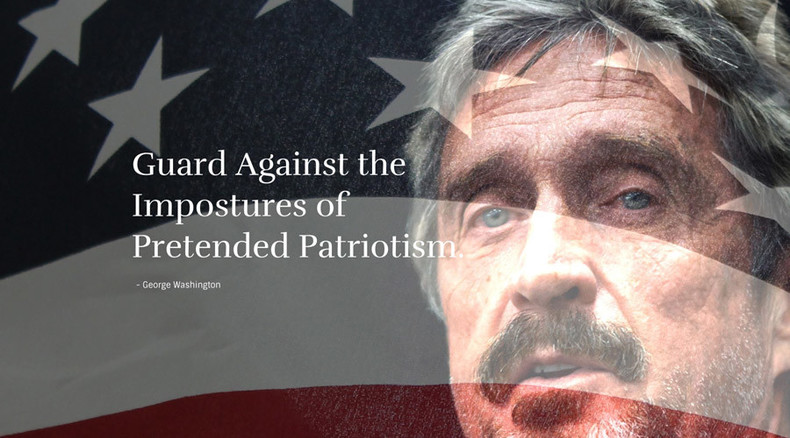 Millionaire software developer John McAfee would like to be president of the United States, and believes he can beat mainstream candidates on the strength of his underground internet following.
The eccentric businessman hinted at launching a presidential bid in an interview with Wired magazine, before unveiling a campaign website on Tuesday. His filing with the Federal Election Commission (FEC) lists no party affiliation, noting instead, "I am founding a new party yet to be announced." He later clarified that it would be called the Cyber Party.
"It's clear that the leadership of our country is illiterate on the fundamental technology that supports everything in life for us now, that is cyber science, our smartphones, our military hardware, our communications," McAfee told Wired, pointing to the recent hacks of Office of Personnel Management and Homeland Security.
Citing another example, McAfee said that having the tech companies build "back doors" for government access to their encrypted software – something FBI director James Comey has been very vocal about – would mean "allowing hackers easy access to anybody's data."
"We are losing privacy at an alarming rate – we have none left," McAfee told CNNMoney on Tuesday, teasing his campaign announcement. "We've given up so much for the illusion of security and our government is simply dysfunctional."
WATCH MORE: 'A government that spies on us all the time is no use' – McAfee to RT
McAfee, who turns 70 next week, describes himself as an "eccentric millionaire." He made a $100 million fortune by selling his McAfee Associates antivirus business to Intel at the end of the 1990s, but lost most of it during the global financial crisis in 2008. McAfee then moved to Belize, citing a pleasant climate and friendly tax laws. He fled the country in 2012, after one of his neighbors turned up dead under mysterious circumstances. Belize confiscated McAfee's assets, but never formally charged him with murder.
WATCH MORE: How to protect yourself from the NSA
Since then, McAfee has become an outspoken critic of the surveillance state, often praising NSA whistleblower Edward Snowden. His current address is in Alabama, where he is reportedly trying to start up another technology venture.
With his adventures in Central America and a soft spot for an opiate commonly known as "bath salts," McAfee is a bit of a maverick even in the campaign that has so far seen candidacies by a dog, an Iowa teenager posing as an internet meme, and a rescue cat named Limberbutt McCubbins. For all the possibility his campaign might be another practical joke, in his media appearances the former software mogul sounded perfectly serious.
"I have a huge underground following on the web," McAfee told CNNMoney."I promise you I will win because I have the votes."