'Deez Nuts' outpolled by Cap'n Crunch, still more popular than most real candidates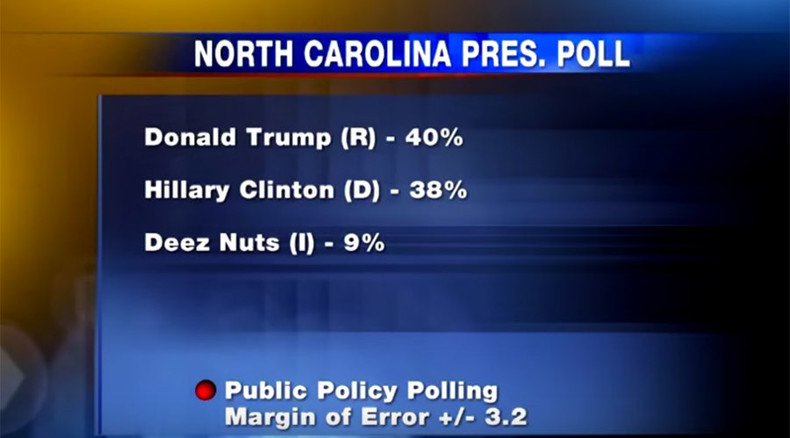 He may have achieved fame by polling better than some Republicans and has a surprisingly common-sense political platform, but the Iowa resident 'Deez Nuts' is now being outpolled by a mystery candidate named after cereal mascot Cap'n Crunch.
Asked which of the "joke candidates" they would support, 9 percent of 1,254 registered voters surveyed by Public Policy Polling endorsed Deez Nuts, while nearly twice as many, 17 percent, backed "Captain Crunch."
Brady Olson, the man behind the Deez Nuts candidacy, is from Wallingford, a town of 200 in northwestern Iowa. He is also 15, which means he won't be eligible to actually run for the US presidency for another 20 years. Interviewed by a local TV station, Olson says that he filed the papers in hope of moving US politics past the dichotomy of Democrats and Republicans.
"Hopefully, [my joke] paved the way for more than a two party system," Olson told local station KTIV.
Olson's alter-ego, Deez Nuts, has a platform addressing a number of burning political issues, from illegal immigration to the federal budget and voting rights for US territories.
READ MORE: Presidential candidate Deez Nuts polls better than traditional GOP hopefuls
Deez Nuts calls for the US to "stop being a world watchdog and limit our positions in international conflicts," and "being respected instead of feared by other nations."
He would deport illegal immigrants back to their country of origin, making a sole exception for minors, and believes the US government should not be allowed to spend more than it collects in tax revenue. The only reason corporations should be given tax incentives would be to create jobs for Americans inside the US, says Deez Nuts.
Nothing is known about "Captain Crunch," the new comedy contender, aside from an address in San Rafael, California. His relative popularity might be explained by brand recognition: Cap'n Crunch (also known as Horatio Magellan Crunch) is a cartoon mascot for a breakfast cereal introduced in 1963.
The only mainstream candidate with a positive favorability rating in the PPP survey was the Republican Ben Carson, with 41 percent of the sample viewing him favorably, compared to 30 percent of negative responses. Most people in the sample identified as Democrats, 43 percent; a third were Republican, while 23 percent were independent or identified with another party.