Presidential candidate Deez Nuts polls better than traditional GOP hopefuls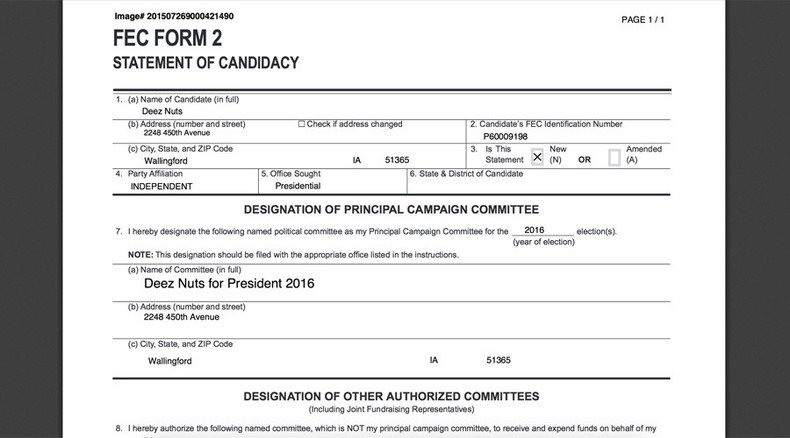 When people say that these nuts are climbing in the campaign polls, they're usually referring to candidates making outlandish statements ‒ not an internet meme. But independent politician Deez Nuts is outperforming several other presidential contenders.
Deez Nuts is polling at 9 percent in North Carolina ‒ tied with Republican hopeful Marco Rubio, and outperforming GOP candidates Carly Fiorina, Mike Huckabee and Scott Walker, who garnered 6 percent each, a Public Policy Polling survey released Wednesday found.
The website Know Your Meme lists Deez Nuts as "a video remix series containing a clip of internet personality WelvenDaGreat saying the phrase 'deez nuts' into a phone, which is often added as the punchline into a variety of videos on Instagram and Vine." It was also a popular joke in the 1990s.
North Carolina is not the only place where Deez Nuts has gained prominence in a crowded field. His North Carolina ranking "[goes] along with his 8 percent in Minnesota and 7 percent in Iowa in our recent polling," the firm noted. Deez Nuts' popularity held steady in Minnesota from a poll released August 4.
Deez Nuts poll at 8% as an independent candidate for President in MN when tested against Hillary Clinton and Donald Trump #NewsYouCanUse

— PublicPolicyPolling (@ppppolls) August 4, 2015
The company, which is often described as Democratic-leaning, didn't add Deez Nuts to its surveys on a whim, though. The internet meme really is running for president, as an independent candidate.
At the end of July, Deez Nuts filed a statement of candidacy with the Federal Election Commission. Not much is known about the politician whose papers list Wallingford, Iowa as the campaign's headquarters.
So far, 585 people ‒ and animals ‒ have officially declared they are running for president, according to FEC records. Of those, 87 have registered as Democrats and 145 as Republicans. The rest are either affiliated with a third party (including the Independent Party); listed as unaffiliated, non partisan or an independent; or left the question blank on the agency's Form 2.
Deez Nuts joins cat Limberbutt McCubbins, a five-year-old rescue tabby, as unusual candidates in the presidential fray. McCubbins, the self-described "cutest and most snuggly candidate" is running as a "Demo-cat." The neutered feline's campaign managers filed paperwork with the FEC in May.
"Before you laugh, note that Limberbutt boasts some considerable talent. Besides Donald Trump, he's easily the cutest and most snuggly candidate."

Posted by Limberbutt 2016 on Wednesday, July 15, 2015
Four people joined the race on Tuesday, the most recent day listed on the government's website. They are Alonzo Tablet Martin Sr., a Republican; Mr. Christopher Robert Keniston, a member of the Veterans Party; independent Bailey D. Dog; and Guy Donald Schwartz, who is listed as an independent.
You can share this story on social media: