California EPA mulls labeling Monsanto's Roundup as being 'known to cause cancer'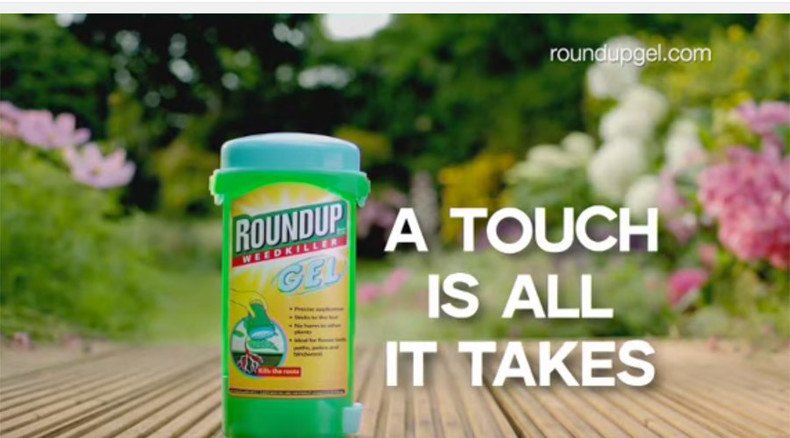 The EPA's office of environmental health hazard assessment in California wants to label four chemicals, including the most popular herbicide and key ingredient of Monsanto's Roundrup, glyphosate, as "known to cause cancer," following the most recent WHO cancer research division's report.
The "notice of intent" envisions placing Glyphosate within 30 days to the list of chemicals that are known to cause cancer, classification of which falls under the Safe Drinking Water and Toxic Enforcement Act of 1986, or the Proposition 65. Under the Act any chemicals that threatens human life require a businesses to provide a "clear and reasonable" warning label before exposing individuals to a chemical on the list.
In March the International Agency for Research on Cancer (IARC) classified glyphosate as being "probably" carcinogenic to humans forcing the agrochemical giant Monsanto to furiously reject the conclusions.
READ MORE: Key ingredient in Monsanto's Roundup found 'safe' despite WHO claims – report
Glyphosate, which was invented by Monsanto back in 1974, is a broad-spectrum herbicide used to kill weeds, especially annual broadleaf weeds and grasses known to compete with commercial crops.
In the US the herbicide has been considered safe since 2013, when Monsanto received approval from the US Environmental Protection Agency (EPA) for increased tolerance levels for glyphosate. In its original assessment the US watchdog said glyphosate could be "used without unreasonable risks to people or the environment."
READ MORE: Long exposure to tiny amounts of Monsanto's Roundup may damage liver, kidneys – study
But a study released last week by an international group of scientists revealed that the long-term intake of Monsanto's herbicide, even in very small amounts, lower than hat which is permissible in US water, may lead to kidney and liver damage.
In a recent report by the Center for Food Safety, the heavy proliferation of Roundup was also linked to a drastic 90-percent drop in the population of monarch butterflies in the US.
The news of California's EPA decision was welcomed by environmental activists.
"California's taking an important step toward protecting people and wildlife from this toxic pesticide," said Dr. Nathan Donley, a staff scientist with the Center for Biological Diversity. "More than 250 million pounds of glyphosate are used each year in the United States, and the science is clear that it's a threat to public health and countless wildlife species. It's long past time to start reining in the out-of-control use of glyphosate in the United States."
In addition to glyphosate, tetrachlorvinphos, parathion and malathion, were listed along Monsanto's product as having carcinogenic effects. The public now have an opportunity to comment or dispute the new proposed classification through October 5.
You can share this story on social media: