Key ingredient in Monsanto's Roundup found 'safe' despite WHO claims – report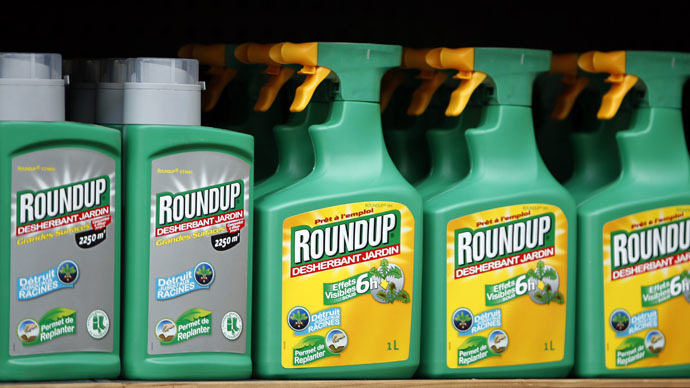 The key ingredient in Monsanto's best-selling Roundup weed killer has reportedly been deemed safe – despite the World Health Organization's claim that it likely causes cancer. The finding could mean the herbicide will be relicensed in Europe.
An assessment of glyphosate was conducted by the German Federal Institute for Risk Assessments (BfR), allegedly based largely on unpublished papers provided by the Glyphosate Task Force – an industry body which lobbies for the herbicide's relicensing in Europe.
The evaluation, reportedly seen by the Guardian, revealed that the Institute drew different conclusions from the World Health Organization's International Agency for Research on Cancer (IARC).
WHO labels Dow herbicide 'possibly' cancer causing http://t.co/p7ilsr1MvJpic.twitter.com/rJ5Nl6Gaml

— RT America (@RT_America) June 23, 2015
The BfR report found "very limited evidence of carcinogenicity" in mice exposed to glyphosate and recommended its re-approval, suggesting the available daily intake be raised from 0.3 to 0.5 mg per kilogram of bodyweight per day.
In addition, a BfR spokesperson said another World Health Organization (WHO) working group had also concluded that glyphosate was not carcinogenic, adding that an expert task force would soon clarify the organization's official position, according to the Guardian.
READ MORE: Too 'dramatic': Monsanto shuns WHO verdict that Roundup 'probably' causes cancer
EU legislation requires that the "active substances" present in pesticides and herbicides be re-evaluated at least once every decade. That process is currently underway, and is expected to be completed by the end of 2015.
On Tuesday, Monsanto announced it had arranged for an outside scientific review of the WHO's conclusion, hiring Intertek Scientific & Regulatory Consultancy to arrange a panel of scientific experts.
Following the WHO ruling in March, the agrichemical company said it was "outraged" at the assessment and accused the organization of "agenda-driven bias."
Developed in the 1970s, farmers have been using glyphosate in increasing quantities since the mid-1990s, when Monsanto introduced genetically engineered crops which could withstand being sprayed with Roundup. The ingredient is also used in Dow's Accord and Syngenta's Touchdown herbicides.
International regulatory bodies, including those in the US, have said that glyphosate is safe when used as directed.
But there is also concern surrounding other ingredients – known as 'surfactants' – in glyphosate-based weedkillers, many of which are more toxic than glyphosate itself.
#VIRAL: World stands up against #Monsanto: Over 400 cities protest GMOs (VIDEO, PHOTOS) http://t.co/ApOQhQkZTLpic.twitter.com/o66WipwzEO

— RT (@RT_com) May 26, 2015
However, manufacturers such as Monsanto believe the ingredients – and studies about their toxicity – should be kept secret.
Monsanto reportedly refused to release a toxicity report for Roundup to the Chinese government last year, stating that it was a trade secret.
Protesters across the world have been speaking out against Monsanto for years, accusing the Missouri-based company of choosing profit over the lives of people.
In May, the third annual March Against Monsanto saw activists from over 400 cities speaking out against the company's sale of toxic chemicals, as well as its attitude toward food safety regulations and staunch opposition to GMO labeling. Small farmers also took part in the demonstrations, accusing Monsanto of monopolizing the seed market.
You can share this story on social media: