March against Monsanto: World rallies in protest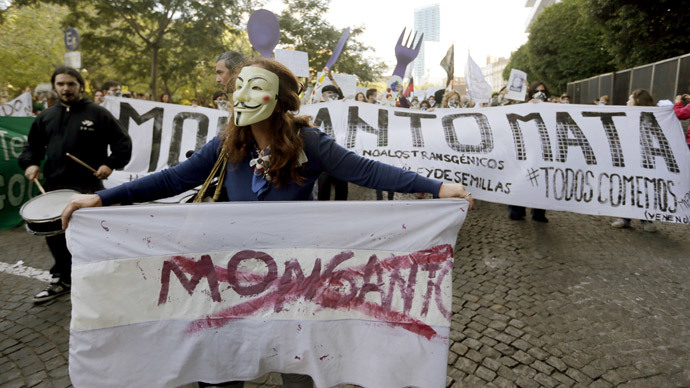 The third annual 'March against Monsanto' protest is taking place in cities around the world. Activists are highlighting the monopoly the GMO giant has in controlling food supply. Protesters say Monsanto controls 90 percent of the seed market in the US.
22:12 GMT

The Los Angeles Police Department attempted to block Hollywood Boulevard as a crowd of anti-Monsanto protesters marched through East Hollywood. Activists posted surreal clips of LAPD cars seemingly joining the march, with their sirens running, to escort the protesters. The march has since headed to a park.

VID: March on Monsanto in Los Angeles taking Hollywood Blvd #mampic.twitter.com/R2d5CuMMiD

— Nancy Mancias (@nancymancias) May 23, 2015

LAPD have joined the March on Monsanto in East Hollywood pic.twitter.com/8jpvnVN9QM

— Nancy Mancias (@nancymancias) May 23, 2015

21:44 GMT

Hundreds of protesters have marched on the White House and Monsanto's Washington headquarters as part of the anti-GMO action. Watch Ruptly's video of the protest.