3 California prison guards arrested over 'brutal murder' of mentally ill inmate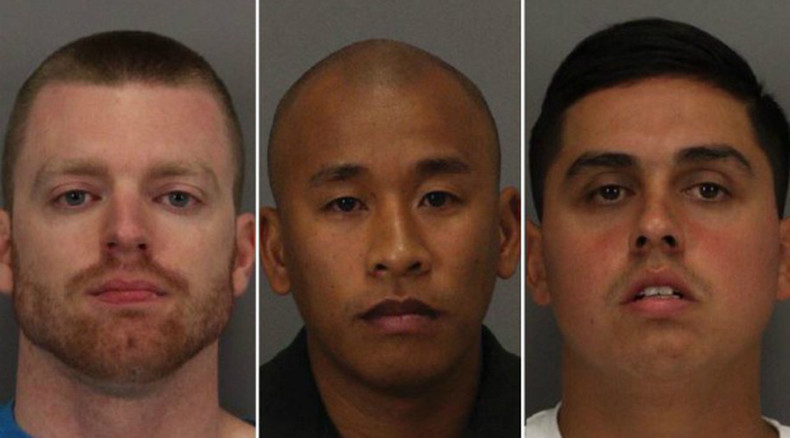 Three Santa Clara County, California prison guards have been arrested over the "brutal murder" of a mentally ill inmate, the county sheriff announced. The inmate suffered from multiple blunt force injuries as well as internal bleeding.
"The disappointment and disgust that I feel cannot be overstated," said Santa Clara County Sheriff Laurie Smith in a statement on Thursday after the arrests were made. She added that the correctional officers killed "an unarmed individual they were entrusted to protect."
The three officers were identified as Rafael Rodriguez, 27, Jereh Lubrin, 28, and Matthew Farris, 27. The sheriff's office is recommending that they be charged with murder, assault under color of authority and conspiracy, according to the San Jose Mercury News, and are being held without bail. They are currently on unpaid leave and are scheduled to be arraigned on Tuesday.
The inmate was identified as 31-year-old Michael James Tyree. The county medical examiner, Dr. Joseph O'Hara, determined that Tyree's death was a homicide whose injures – multiple blunt force trauma, visceral lacerations and internal bleeding – were caused by another individual or more, the Associated Press reported.
Last Thursday morning, Tyree was found dead in his cell, though it was determined that he died the previous night.
"A correctional deputy was doing a welfare check, came across an inmate who was unresponsive," said Sgt. James Jensen of the Santa Clara Co. Sheriff's Office to CBS San Francisco. "He called for other deputies. Medical aid was rendered, fire and paramedics were called, and they pronounced our inmate deceased at the scene in the jail."
READ MORE: Diabetic Rikers inmate left to die after officials refuse to deliver medical aid
The correctional officers were carrying out a clothing check during the time when Tyree suffered the various injuries documented by the medical examiner. Citing an unnamed source, the Mercury News reported that the officers did not immediately report their use of force, which they are required to do, or try to find medical aid for Tyree.
The officers did not state that any use of force occurred until after Tyree's dead body was found. Afterwards, they stated that Tyree had refused to take medication.
Tyree was also scheduled to be moved to a mental health facility. A few days prior, he pleaded no contest to petty theft, according to the Mercury News.
"Our client was slated to be released to a mental health bed but no bed was available, thus the reason he was still in jail,'' Santa Clara County Public Defender Molly O'Neal told the newspaper Thursday. "This tragedy underscores the need for a greater number of mental health beds so that clients with acute mental health needs do not sit in custodial facilities which are not therapeutic when they have been ordered released.''
To help review official polices, Sheriff Smith said she had requested assistance from the FBI, the San Francisco Chronicle.
READ MORE: Cruel and unusual? Federal court to consider California death penalty
Paula Canny, the attorney representing Tyree's family, said that Smith's response so far has been "impressive."
"Michael Tyree, even though he was an inmate in a jail, is a person of value," she added. "No relatives, no friend, no anybody wants to hear that their loved one died as the result of murder."
You can share this story on social media: