Cruel and unusual? Federal court to consider California death penalty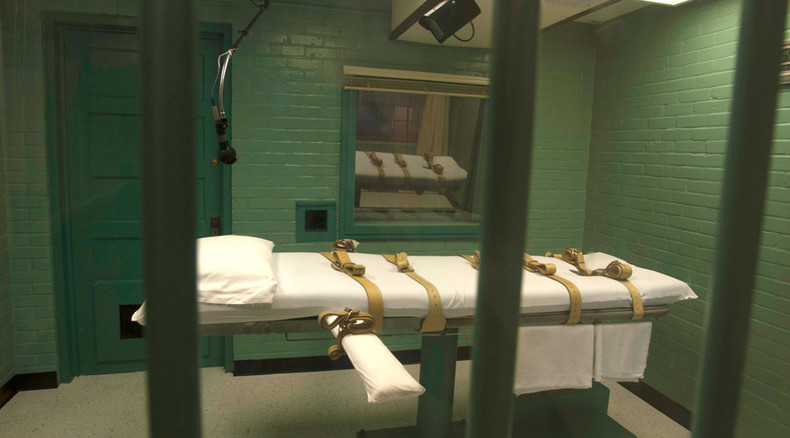 A federal appeals court is set to hear arguments to determine if California's death penalty system – which opponents say is riddled with unfairness and arbitrary delays – constitutes cruel and unusual punishment, a violation of the Eighth Amendment.
The Monday hearing before the 9th US Circuit Court of Appeals in Pasadena, California, will come more than a year since US District Judge Cormac Carney ruled that the extended length of the state's death penalty process is, in fact, a violation of the US Constitution.
Since 1978, California has sentenced to death more than 900 people, though only 13 have been executed. Around 100 death row inmates have died of natural causes in that time period.
The ruling, the first time a judge has declared the state's current death penalty unconstitutional, is connected to the case of death row inmate Ernest DeWayne Jones, a convicted rapist and murderer from Los Angeles.

"The dysfunctional administration of California's death penalty system has resulted, and will continue to result, in an inordinate and unpredictable period of delay," Carney wrote in his July 2014 opinion.

"Allowing this system to continue to threaten Mr. Jones with the slight possibility of death, almost a generation after he was first sentenced, violates the Eighth Amendment's prohibition against cruel and unusual punishment."

California Attorney General Kamala Harris appealed Carney's ruling, setting up the appeals court hearing. No matter how the state appeals court rules, the case could very well end up in the US Supreme Court.
READ MORE: Connecticut bans unconstitutional death penalty citing 'racial and ethnic biases'

More than 700 inmates in California are currenly on death row, with more than 40 percent of those being imprisoned for more than 19 years. It takes at least 25 years for death row inmates to litigate the merits of their death sentence, according to the California Department of Justice. The last execution in the state occurred in 2006.
Apparently the secret to a long life is to get the death penalty in California

— Kat (@KatYoungblood) August 31, 2015
Capital punishment in California, Carney ruled, rested on arbitrary factors rather than the nature of a certain crime.

For the nearly 750 Californians on death row, the judge wrote, "systemic delay has made their execution so unlikely that the death sentence carefully and deliberately imposed by the jury has been quietly transformed into one no rational jury or legislature could ever impose: life in prison, with the remote possibility of death."

Prosecutors in the case said the state's system attempts to protect the interests of all involved parties in a given case and that delays don't necessarily mean an arbitrary or dysfunctional process.

"The court mistook its policy critique as a proper basis for legal judgment," Supervising Deputy Attorney General James Bilderback II wrote in court filings cited by the Associated Press.
READ MORE: Nebraska abolishes death penalty, overrides governor's veto

Jones, 51, raped and murdered his girlfriend's mother in 1992. He has been on death row for 20 years. In that time, the state did not provide a fair and timely review of his case, he has stated in his appeal. He added that the constant delays and random nature of the death penalty process have contributed to his suffering, and, if he is eventually executed, his death is unlikely to deter criminals or serve as proper retribution.

"As the district court concluded, the dysfunctional nature of California's death penalty process has ceased to provide any semblance of a rational and constitutional punishment," attorney Michael Laurence wrote.

Legal battles have left California without a court-approved method of execution. Nine years ago, another federal judge ordered the state to overhaul its lethal injection procedures. In 2012, Gov. Jerry Brown asked an advisory board to come up with a single-drug injection method to replace a three-drug cocktail. In June, the state settled a lawsuit, finally agreeing to draft a one-drug policy.
READ MORE: Supreme Court upholds lethal injections

Meanwhile, in March, Brown asked for $3.2 million to adapt 100 more prison cells for the growing number of death row inmates in the state.

In 2008, a bipartisan panel known as the California Commission on the Fair Administration of Justice called the state's death penalty system "dysfunctional" in its report on delays in the process.

"The system is plagued with excessive delay in the appointments of counsel for direct appeals and habeas corpus petitions, and a severe backlog in the review of appeals and habeas petitions before the California Supreme Court," the report concluded.
Nineteen US states and the District of Columbia have abolished the death penalty. In August, the Connecticut Supreme Court validated a 2012 law ending death sentences in these state. In May, Nebraska's legislature approved a law to abolish the death penalty, overriding the governor's veto of the bill.