Murder rates spike in US cities in 2015 after decades of decline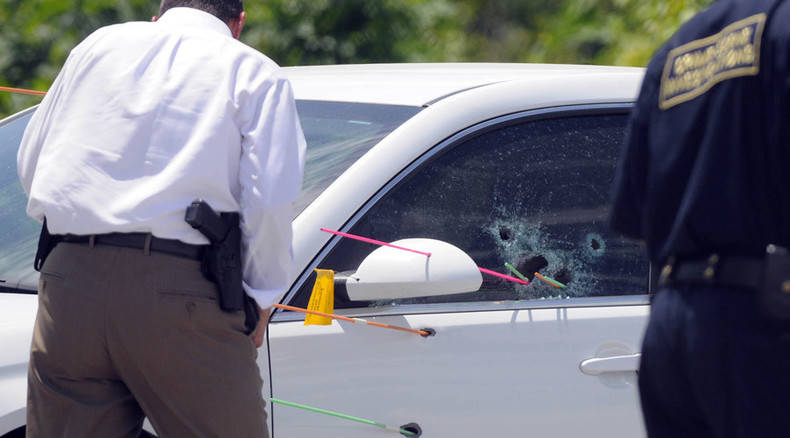 At least 35 US cities have witnessed a sharp rise in homicides this year compared to 2014, with Milwaukee, St Louis, Baltimore and Washington showing significant increases. No expert can say with certainty what's caused the rise in the murder rate.
The statistics published by the New York Times put Milwaukee at the top of homicide growth with 76 percent this year. It's followed by St Louis, Missouri, with 60 percent, and Baltimore, Maryland, with 56 percent.
READ MORE: Police rattled by spike in violent crimes across US
There have been 104 murders already registered in Milwaukee, compared to 59 homicides registered throughout the whole of 2014.
The murder growth registered in St Louis is 136 cases from 85 last year, while in Baltimore 215 people have been killed as of summer of 2015, compared to 138 homicide cases registered in 2014.
The fourth greatest homicide growth is taking place in Washington, which showed a 44 percent increase: 105 murders.
Other cities in which homicide rates have increased, though to a lesser extent, include Chicago (294 against 244), Dallas (83 against 71), Kansas City (54 against 45), New Orleans (120 against 98), New York (208 against 190), Philadelphia (171 against 165).
READ MORE: August heat: 6 cops shot, 103 people killed by police in US
The murder rate stills remains far below the record marks witnessed two to three decades ago, in the late 1980s and early '90s, and in cities like Cincinnati, Los Angeles and Newark the homicide rate has not changed much over the last year.
The fatal shooting of black teenager Michael Brown by a white police officer last summer in the St Louis neighborhood of Ferguson, which was followed by considerable public unrest, sparked nationwide debate over police brutality and excess use of force, plus discussions over race relations in the US.
According to the NYT, some senior police officials now tend to put blame for the violence spike on criminals who now fear police less, because law enforcement officers are now under greater scrutiny over their actions. In particular, over their use of weapons.
"Maintaining one's status and credibility and honor, if you will, within that peer community is literally a matter of life and death," Milwaukee's police chief, Edward A. Flynn, told the NYT. "And that's coupled with a very harsh reality, which is the mental calculation of those who live in that strata that it is more dangerous to get caught without their gun than to get caught with their gun."
READ MORE: 'No coincidence': US leads world in gun ownership & mass shootings, study says

They claim that police officers choose to withdraw from everyday enforcement over fears they could be charged for their actions.
"Across the country, we've all found it's not the individual who never committed a crime before suddenly killing somebody," the police superintendent in Chicago, Garry McCarthy, said on Monday. "It's the repeat offenders. It's the same people over and over again."
But opinions differ, as other experts put blame on affordable gun ownership, street gangs and general tendency of young people choosing weapons to settle issues with each other more often now.
READ MORE: Cops more likely to be murdered in states with high gun ownership - study
It is not clear whether race issues are playing any significant role in homicide growth, which truly could be the key for St Louis and Baltimore, where racial tensions have been running high for years, but it could not explain similar problems throughout the US.
"That is not a situation that can be solved by policing," the police superintendent in New Orleans, Michael S. Harrison, said. "It speaks to a culture of violence deeply ingrained into a community — a segment of the population where people are resolving their problems in a violent way."