Virginia teen with pro-ISIS Twitter account sentenced to 11 years in prison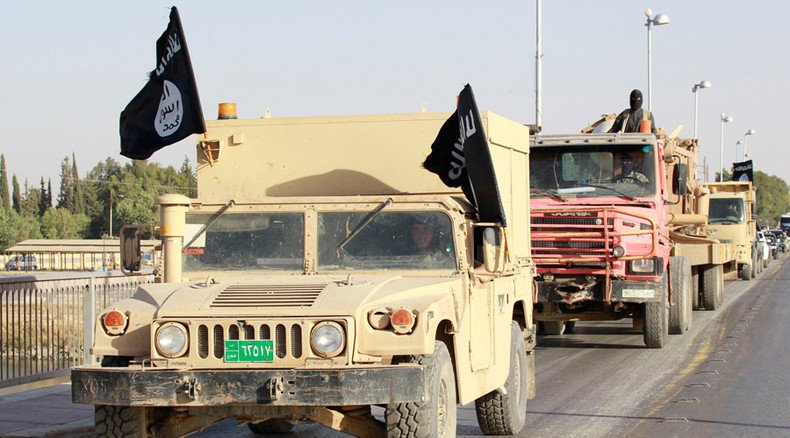 A high school honor student who pleaded guilty to conspiring to provide material support to Islamic State through social media has been sentenced to 136 months in prison. The teen aided his friend in traveling to Syria to join the jihadist group in January.
In June, Ali Shukri Amin, 17, of Manassas, Virginia, pleaded guilty in a federal court to one count of providing material support and resources to Islamic State (IS, also known as ISIS/ISIL), which is considered a terrorist organization by the United States government.
On Thursday, Amin was sentenced to more than 11 years in prison. After serving his sentence, Amin will face a "lifetime of supervised release and monitoring of his internet activities," according to the US Department of Justice (DOJ). Earlier this month, Amin said his thinking had become "distorted," and that he had perverted the teachings of Islam to justify violence and death.

"I am deeply ashamed for becoming so lost and adrift from what I know in my heart is right," Amin wrote to the judge tasked with sentencing him, the Washington Post reported last week. Prosecutors had originally sought a 15-year prison sentence. Amin asked for just a little over six years.
Amin was responsible for the Twitter handle @Amreekiwitness, an account with more than 4,000 followers that posted more than 7,000 messages since June 2014, according to a plea agreement. The account was openly pro-Islamic State, offering advice and encouragement to IS supporters, including how to use Bitcoin to send funding to IS. Amin's @Amreekiwitness also sparred with the US State Department's anti-radicalization Twittter account, @ThinkAgain_DOS.

Amin, identified as a Muslim by his attorney, facilitated travel to Syria for Reza Niknejad, 18, also of Prince William County, Virginia, according to the DOJ. Both attended Prince William County's Osbourn Park High School, where Niknejad graduated in June 2014. Amin, an honor student who had been accepted to college before withdrawing, left the school in February.
READ MORE: ISIS wannabe recruit accused of organizing 'small army' near NYC

In January, Amin and another teenager took Niknejad to Dulles International Airport outside Washington, DC so that he could catch a flight to Greece. Niknejad met up with Amin's contacts in Istanbul, Turkey during a layover. Niknejad is now believed to be a member of the Islamic State in Syria.

Niknejad, a naturalized citizen originally from Iran, was charged in June with conspiring to provide material support to terrorists, conspiring to provide material support to IS, and conspiring to kill and injure people abroad.
Amin, a naturalized citizen from Sudan, is one of around 50 people charged by federal prosecutors in the US for trying to aid IS, the Washington Post reported in June. He is the youngest person to be charged for such activity, according to MSNBC.
The DOJ said Amin's sentencing "demonstrates that those who use social media as a tool to provide support and resources to ISIL will be identified and prosecuted with no less vigilance than those who travel to take up arms with ISIL."
"Ali Shukri Amin is a young American who used social media to provide material support to ISIL," said Assistant US Attorney General for National Security John P. Carlin in a DOJ press release.

"ISIL continues to use social media to send their violent and hateful message around the world in an attempt to radicalize, recruit and incite youth and others to support their cause. More and more, their propaganda is seeping into our communities and reaching those who are most vulnerable."

In the press release, Prince William County Police Department Chief Stephan Hudson said Amin was reported by "school staff" to law enforcement, which notified federal authorities through a Joint Terrorism Task Force partnership.
READ MORE: Florida man inspired by ISIS planned to detonate bomb on beach – FBI

"Observations made by school staff and subsequent follow-up by the School Resource Officer were some of the earlier indicators of suspicious behavior regarding this individual," Hudson said. "Those observations were quickly relayed to our partners with the JTTF who acted upon this information very quickly. We greatly appreciate that these observations were observed and reported to the proper authorities proved to be instrumental in the overall investigation in stopping a dangerous network such as ISIL from further infiltrating our community."

The DOJ did not offer details as to the extent of Amin's "suspicious behavior" reported by school staff that triggered an FBI investigation of a teenager. The FBI was first informed of Amin's support in November 2014, according to reports.
READ MORE: Buyers of looted artifacts may be charged with aiding ISIS – FBI

"Amin's case serves as a reminder of how persistent and pervasive online radicalization has become," said assistant director of the FBI's Washington Field Office Andrew McCabe, adding that the sentencing "marks a personal tragedy for the Amin family and the community as we have lost yet another young person to the allure of extremist ideology focused on hatred."

Amin's attorney, Joseph Flood, told the Post in June that his client was most angry at the Syrian regime, which Amin believed was tacitly supported by the United States. Amin's actions "are a reflection of his deeply held religious beliefs, but also his immaturity, social isolation and frustration at the ineffectiveness of nonviolent means for opposing a criminal regime," Flood said.

"In every regard, the activity that resulted in his conviction was an anomaly and at odds with the hard-working values he learned in his family," Flood added. "Mr. Amin's greatest hope is that others might learn from his errors and find pro-social, nonviolent ways of working for change."

Amin also ran an ask.fm page under the name AmreekiWitness, according to his plea agreement. The account was "dedicated to raising awareness about the upcoming conquest of the Americas, and the benefits it has upon the American people."

The FBI received clearance to search Amin's phone in November, the Post reported. The agency seized a package from him on January 7 that contained a smartphone, thumb drive, and handwritten note in English and Arabic.

An FBI affidavit said Niknejad's family checked his bank account on January 18 and discovered that he had bought a plane ticket to Turkey. He had told them he was going on a camping trip. The family also found an envelope in their mailbox that same day containg a thumb drive on which were family photos and a note from Niknejad saying he loved his family but he "had traveled to Medina, Saudi Arabia, to further study Islam."
You can share this story on social media: